Here's how Kissht experienced 5X better onboarding conversions with Reverse Penny Drop
2 Nov 2022 — PRODUCT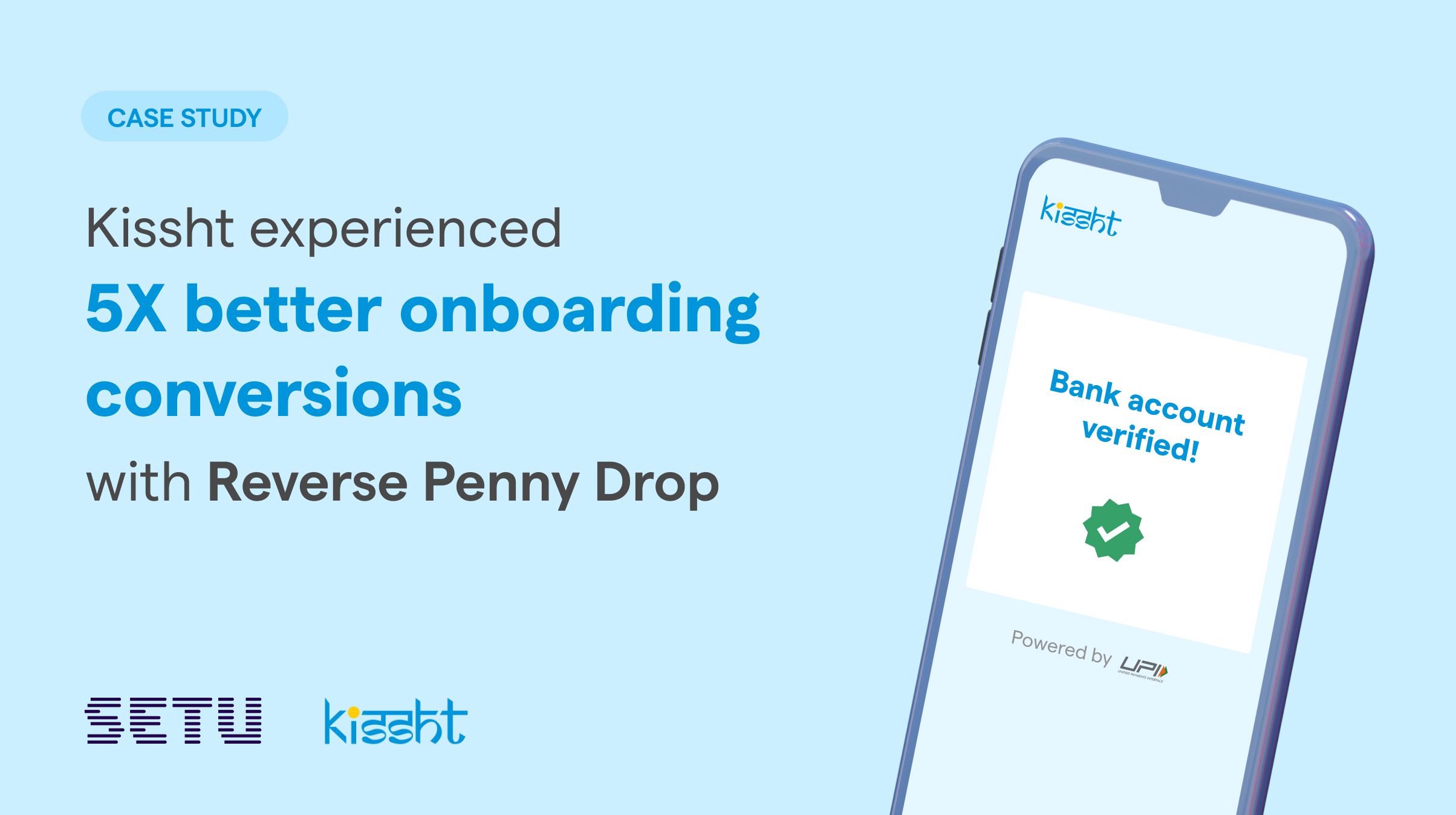 As one of the largest lending FinTechs in the country, Kissht has an ambitious vision—to provide quick and hassle-free credit to millions of their customers. They boast of a mammoth 10 million app downloads and work with 50+ online partners and 3000+ offline stores across the country. Kissht also plans to foray into newer forms of credit enablement.
With these ambitions, Kissht launched 'Ring'—a digital credit platform that customers can use to shop from their favourite offline or online stores. However, digitally onboarding customers to offer credit is challenging. Collecting and verifying KYC documents like PAN and Aadhaar is tough. Verifying customer bank accounts is yet another obstacle.
To simplify this, Kissht went live on Setu's Reverse Penny Drop, an industry-first product that lets regulated entities like Kissht verify their customers' bank account details, based on a simple INR 1 UPI transaction. Tushar Panhale, Head of Payments at Kissht and Ring, states that Setu's Reverse Penny Drop has transformed how they conduct bank account verifications—and now has a 99% success rate.
But let's take a step back
Why do companies need to validate customer bank accounts and what is the problem with existing solutions in the market?
Companies operating in complex areas like lending have a regulatory obligation to verify the authenticity and ownership of customer bank accounts. These regulations intend to prevent money laundering and other fraud. Another reason why companies validate their customers' bank accounts is to minimise the impact of human errors. Barring some fintech enthusiasts, people do not remember their bank account numbers. It is also quite possible to make errors while filling up these details. The smallest mistake can cause account verification failures. At scale, these failures result in huge operational inefficiencies.
So, fintech companies like Kissht typically do a 'Penny Drop' verification. In a Penny Drop verification, a rupee is deposited through an IMPS transaction into the bank account the user has entered and its response provides information about the account, including the validity/status of the account and a truncated name for the account holder.
But this solution is far from ideal. About 20-24 banks don't have account holder names mapped with their account numbers. Instead, Tushar and the Kissht team get the name of the bank as the account holder's name. The response also has limits for the number of characters allocated to an account holder's name. So, for long South Indian names—say like ex-Indian cricketer Syed Mujtaba Hussein Kirmani—the name gets truncated to something like—Syedmutkirmani. Kissht then has to spend valuable time and effort trying to match this truncated name with the actual name of their customer. Yet another limitation is that common names like 'Kumar' or 'Sharma', make it hard to differentiate a customer's bank account from their family members'. Again, Kissht spends valuable time and effort on further examination.
Enter Setu's Reverse Penny Drop
With Setu's UPI-based bank account verification, customers pay INR 1 through UPI and Setu receives the customers' bank account number, full account holder name, IFSC code and UPI handle. Companies like Kissht not only get all details they need but can also benefit from an added security layer. To create a UPI handle, banks are required to link a customer's full name and number to their bank account. This also helps Kissht get the mobile number from which the payment was made, which is linked to the bank account of the customer. All this has massively simplified account verifications for Kissht. And yes, while offering the smoothest customer bank account verification experience.
And there is nothing like high praise from a customer, to give a fillip to a new product.
Karan Mehta, CTO of Kissht says— 'Reverse Penny drop based verification is a process our customers absolutely love. Instead of typing an IFSC code and a 16-digit bank number, customers now just have to make a ₹ 1 UPI payment—which is very intuitive for them. And in the response, we get data that cannot be spoofed. For us, it's a good fraud mitigant. For a customer, it's a good experience. Our onboarding drop-offs at the bank account stage have dropped from 18-20% to less than 4% now! An incredibly big leap from what we experienced with regular Penny Drop.'
Need we say more?
---