How Pickrr recorded higher conversions with Setu's UPI DeepLinks
10 Jan 2023 — PRODUCT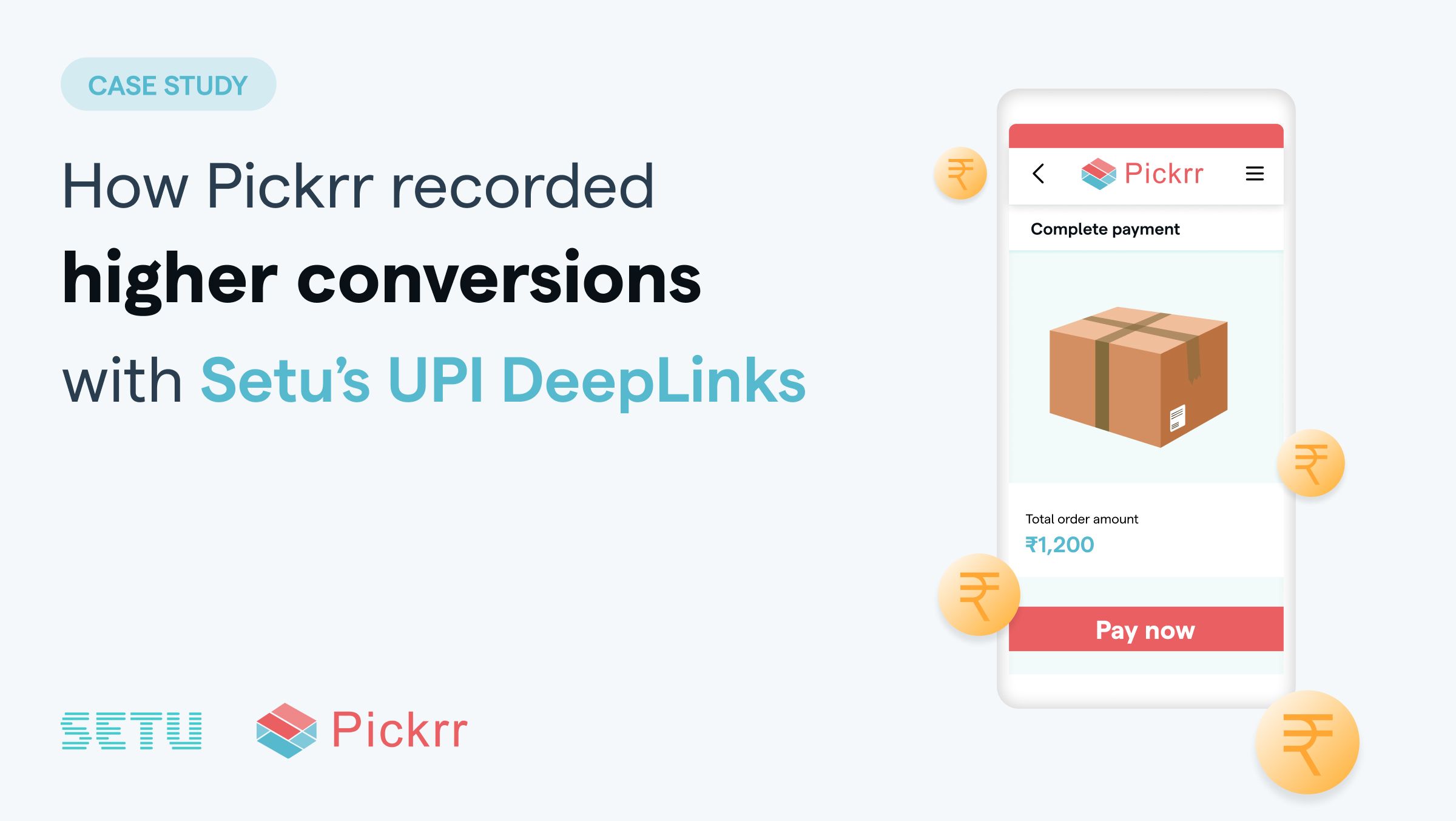 According to Statista, as of the last financial year, the logistics market in India was valued at $250 billion and is expected to grow to $380 billion by 2025 with a CAGR between 10 to 12 percent. It is undoubtedly one of the largest industries in the country.
But the truth is that this industry is extremely fragmented— inefficiencies in transportation, lack of automated softwares, and broken processes. There have been numerous technology-based logistics and ecommerce startups which have been attempting to disrupt the market and aim for a better share.
Among these startups, the Delhi NCR-based Pickrr is fast growing to be one of the leading logistics marketplace aggregators in India that offers end-to-end delivery services until the last mile. Their online platform empowers businesses to —mobilise logistics, track shipments, collect payments and generate reports.
Pickkr's unwavering consistency to delivery promise is the primary reason why eCommerce and D2C brands look up to them. In fact, a large percentage of ecommerce website drop-offs happen when the exact date of delivery is not shown on the checkout page. Pickrr has an in-built-address-and-RTO intelligence module that would help them identify non-deliverable addresses prior to shipping, which is touted to improve success rates for its eCommerce partners.
But all things said and done, they still needed a robust payment system with a fast checkout which would complement internal systems and further offer a smoother shopping experience to their end users.
A typical user journey on any ecommerce website or application would look somewhat like this. A user—
lands on the website

checks the product catalog and selects product

moves to cart to review the selected product(s)

proceeds to payment page
In this age of hyper convenience, users do not want multiple clicks for checkout or order confirmation. And it is also fair to say that most platforms would want a single API integration that would enable this experience for their users.
Using Setu's UPI deep links, ecommerce platforms would have the capability to embed a UPI payment button or a link directly on the product catalog page itself. This integration effectively allows for the shortest turnaround time possible, compelling the users to quickly proceed to payment upon product discovery.
Yashvika Mittal, Product Marketing Manager at Pickrr said,

"Payments is a very critical area for ecommerce brands and they have been struggling while working with payment gateways with complex integrations and countless payment methods. With Setu's UPI deep links, we could build an amazing one-click checkout experience that powers customers payments for all our merchants. Integrating with Setu's UPI stack was swift and it helped us launch in just a couple of weeks."
Pickrr wanted to build their own checkout experience to drive fast conversions and reduce customer drop-offs for their merchants. Today, standalone payment gateways offer a plethora of options to end users that often create unnecessary delays in order placement.
To solve for the same, Pickrr built Fastrr—a powerful and frictionless one-click checkout for eCommerce brands. Fastrr is powered and built on Setu's UPI Deep Links.
Setu's UPI Deep Links enable marketplaces such as Pickrr to embed a payment button within its platform with predefined data like order amount. Tapping this button would pull up all UPI payment apps on the users' phones, allowing them to select and pay immediately.
Using Setu's UPI Deep Links, Fastrr now allows shoppers to shop products and checkout with an OTP login that brings their details across every device, auto-fills addresses and helps them place an order in just a click. A simple one-click checkout that leads to much higher conversions than the average payment gateway.
If you are a product owner, looking to build your own one-click checkout, contact us here.
---