All you need to know about ONDC 101
20 Jul 2022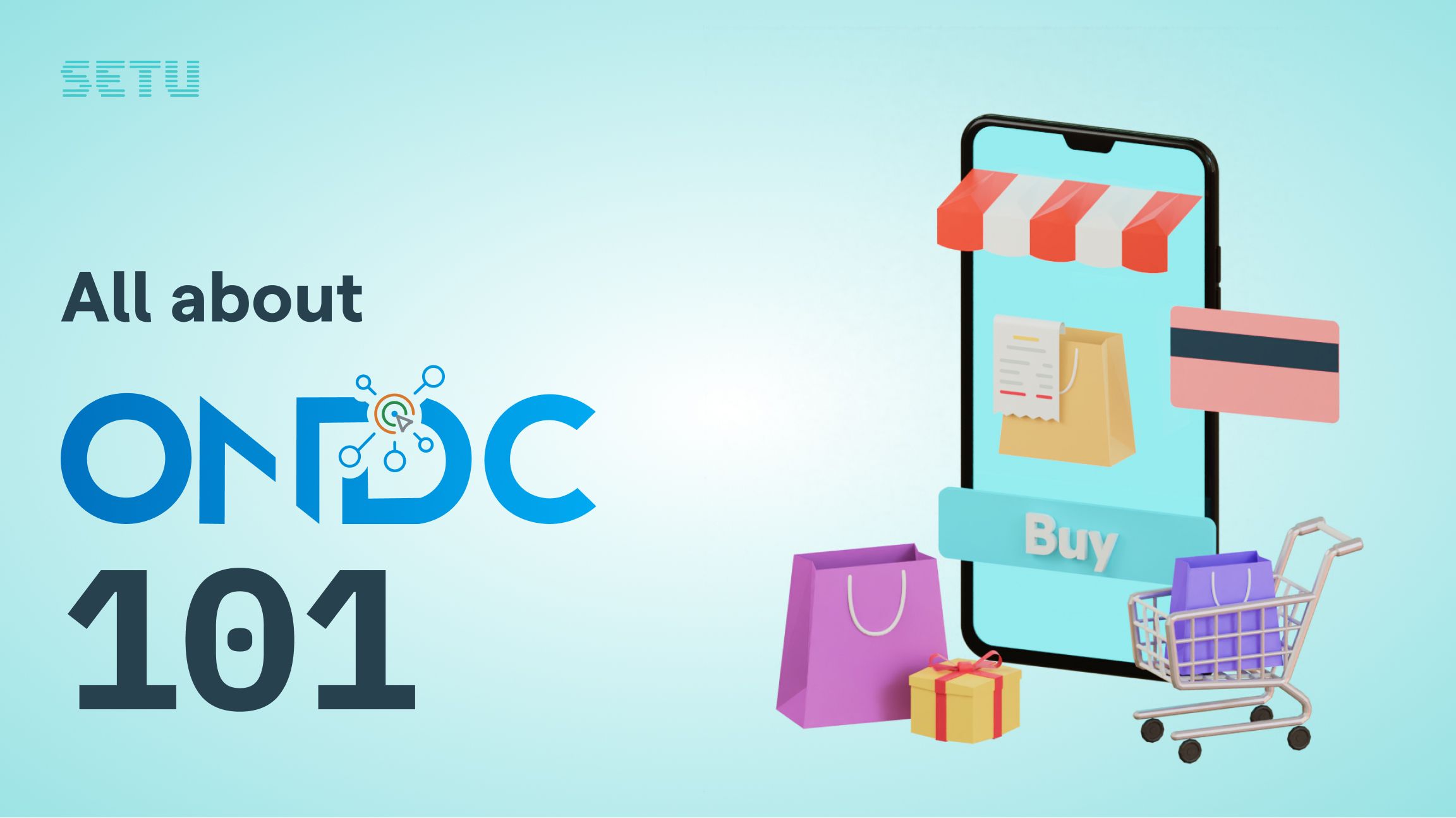 March 2020. The imposed lockdown brings the daily normal to a screeching halt.
Zoom in to rural India. A mother of five struggles to feed her children. The youngest is three months old, and the husband is a daily wage labourer who's out of a job. Kirana stores are shut. Hyper fast delivery, increasingly the norm in cities, is not an option here. Fortunately, some NGOs rush in, and offer rations when possible. Their volunteers become heroes not only for this family, but many more around the country.
Now, what if these families could digitally access kirana stores instead? 90% of Indians connected to the internet, utilise it on a daily basis. And with attractive, low cost offers, Reliance Jio 4G packs have potential for phenomenal adoption across rural areas too. How about we use this to enable deliveries from any small vendor to any corner in India?
Enter, ONDC.
So, what is ONDC?#
ONDC stands for Open Network for Digital Commerce. It is a first-of-its-kind effort to democratise digital commerce. It promises to transform the e-commerce model from being restricted to a platform (think Amazon / Flipkart), to an open network. Being platform agnostic, ONDC should help both buyers and sellers be digitally visible and transact with each other. This can affect a wide range of industries, including retail, food, mobility, and much more.
ONDC is expected to standardise operations, offer logistics, and digitise the whole supply chain—a paradigm shift from a platform-confined approach to a facilitator-driven, interoperable, decentralised network—that's poised to upend the monopoly of big platform players like Flipkart and Amazon.
How does it impact Flipkart and Amazon again?#
Amazon and Flipkart lead the charge in e-commerce. With Reliance and Tata recently joining in, Indian e-commerce has transformed into a four way royal rumble. 80% of the online retail market lies in the hands of these big four companies.
But, it is touted that India's online retail sales could hit 85.5 billion USD by 2025. And as per the US research firm Forrester, the number of online buyers in India is expected to grow to 291.5 million by 2025. In this context, ONDC can level the playing field for small offline traders who run regular mom-and-pop stores, which form the actual backbone of the Indian retail system.
The goals of ONDC are simple—
Let the local retail ecosystem gain access to and meet online demand.

Let all enterprises, regardless of size, location, or digital presence, participate easily in online commerce.

Increase the geographic and socioeconomic reach of digital commerce in India.

Add possibilities for economic and job growth in the entire value chain of digital commerce— including logistics, packaging, last-mile delivery, and more.

Improve business efficiency by lowering overhead costs for all participants.

Enable expansion in commerce of locally produced items in India, hence, increasing MSMEs' investment and output.
Now, how would ONDC actually work?#
Assume that there are two parties—Rahul, a restaurant owner in the city, and Samarth, the owner of a nearby kirana shop that sells homemade pickles listed on XYZmart's app. Rahul wants to order pickles in bulk for his restaurant. Typically, Rahul would need to head to XYZmart's app to make a purchase. But this is where ONDC changes things.
Rahul (the buyer) can now use any ONDC enabled platform to find pickles—Samarth's product being one of many options. Rahul may compare reviews, ratings, and prices from Samarth's competitors. And perhaps he gets a better bargain based on his proximity to Samarth's shop, with lower delivery fees.
On the other side, Samarth (the seller), would receive a lot of critical services from ONDC as well. Aside from the very important goal of giving his business visibility to nearby buyers, he would get access to credit, logistics support, inventory management, ledger book management, payment services, and more.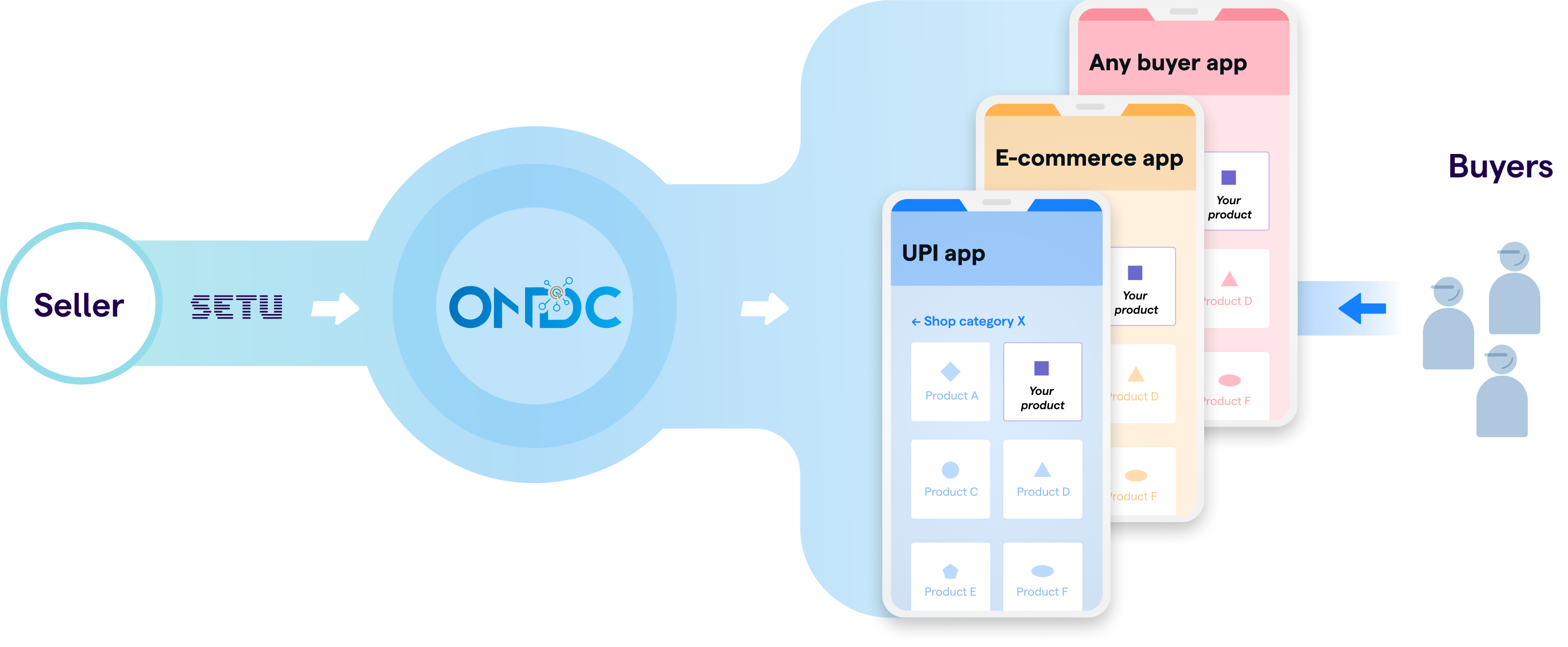 As an example, to get his products to Rahul, Samarth may use the ONDC platform to access a variety of logistics partners. Or if he is short on cash, multiple ONDC-registered institutions can give him a loan. Voila! Everything is managed by a single platform called ONDC.
You might also wonder how all this impacts regular buyers like you and me?

With diverse options in the market, it is a win-win for us buyers. Sustainable, improved prices in the longer run. And increased competition that results in better service and innovation on platforms.
ONDC, connecting India with Bharat#
India's digital commerce sector has gained considerable pace over the past few years. Growth in internet access and connectivity at reasonable prices, as well as increased startup investment ecosystems are important contributors to this.
India is home to 140 million e-retailers (14 crore). And as more and more consumers get connected to the internet, demand will be undeniably higher. Union Minister Piyush Goyal has acknowledged that ONDC could be the next UPI-like phenomenon we have all been waiting for. The future appears promising for small-to-medium-sized players, with the online retail set to grow to a 200 billion USD market by 2026.
ONDC will transform digital commerce in India in unanticipated ways. Be one of the first to join the digital revolution.
To know more, contact Setu here.
---