Payment pains to digital gains: Piramal Finance's ride on BBPS
8 Sep 2023 — CUSTOMER STORIES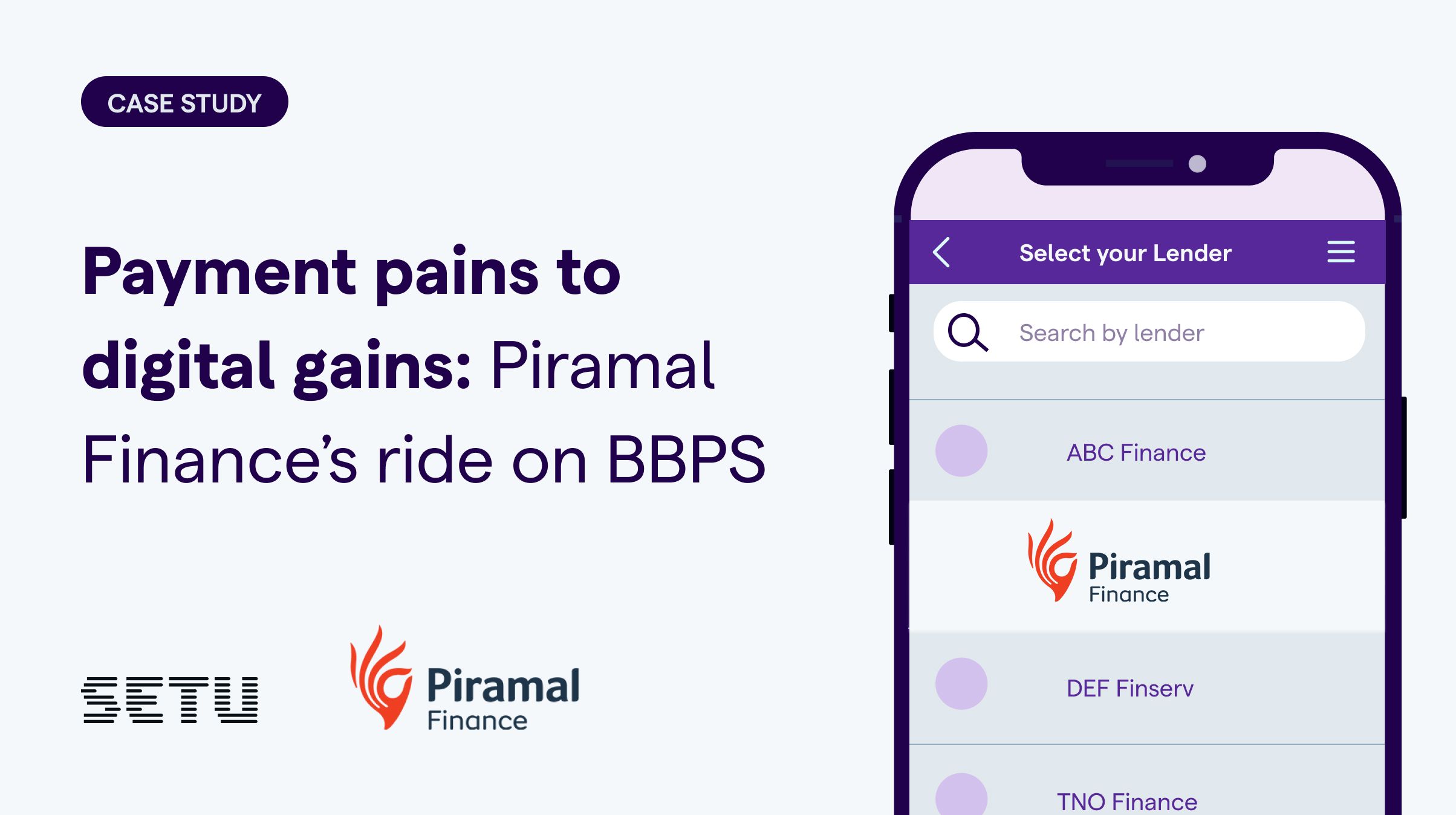 In India's financial services landscape, Piramal Finance has carved out a niche for itself. With a diverse portfolio encompassing secured and unsecured lending—ranging from home loans to consumer durables financing and a wide array of credit products—Piramal Finance is an Indian lending giant.
They serve all credit needs of an Indian citizen by offering personalised credit products and top-notch customer experience. All while being digital-first.
Most NBFCs and lenders that have existed for over a decade are usually averse or slow to adopt newer technologies. Not Piramal Finance. 'Digital at the core' is Piramal's motto.
With scale in business, comes issues of scale too
Behind the scenes, Piramal Finance sensed a complex matrix of operational challenges that could arise and potentially hamper the precious customer experience that they dearly crafted over a decade.
As Piramal Finance grew its books and disbursed huge numbers in loans, challenges in collections started to crop up. Piramal was relying on their feet-on-street—or collection agents—who would visit each borrower on the EMI due date and collect each payment manually. These agents then would rush to deposit these payments in one of the Piramal branches where it was reconciled by an army of finance executives. Since these were physical collections, managing customer availability was a constant pain. The headaches of registering payments on time and reconciliation of these payments were also growing.
Piramal was also relying on payment gateways for handling digital collections. Still, exorbitant fees and a lack of easy-to-use payment methods were just some of the reasons why this channel didn't have a strong impact.
The tug-of-war between these operational hindrances and their digital-first ethos was evident.
In this setting, Setu's BBPS stack emerged on Piramal Finance's radar as a promising solution. Renowned for their expertise in digital collections and accompanied by the allure of fast integration, and clean documentation, Setu held the promise of a better tomorrow for Piramal Finance's collections.
The perfect collection solution
With a swift integration process of fewer than two weeks, Setu's BBPS BOU onboarded Piramal Finance on all the UPI apps in the country.
Now, any of Piramal's customers could open their favorite UPI application, find Piramal Finance, and make a direct EMI payment to them with just a few clicks.
Their collection agents never have to deal with last-minute customer reschedulings or hectic payment registrations.
The impact was transformative. In less than five months, the company collected ₹120 crores in EMI payments.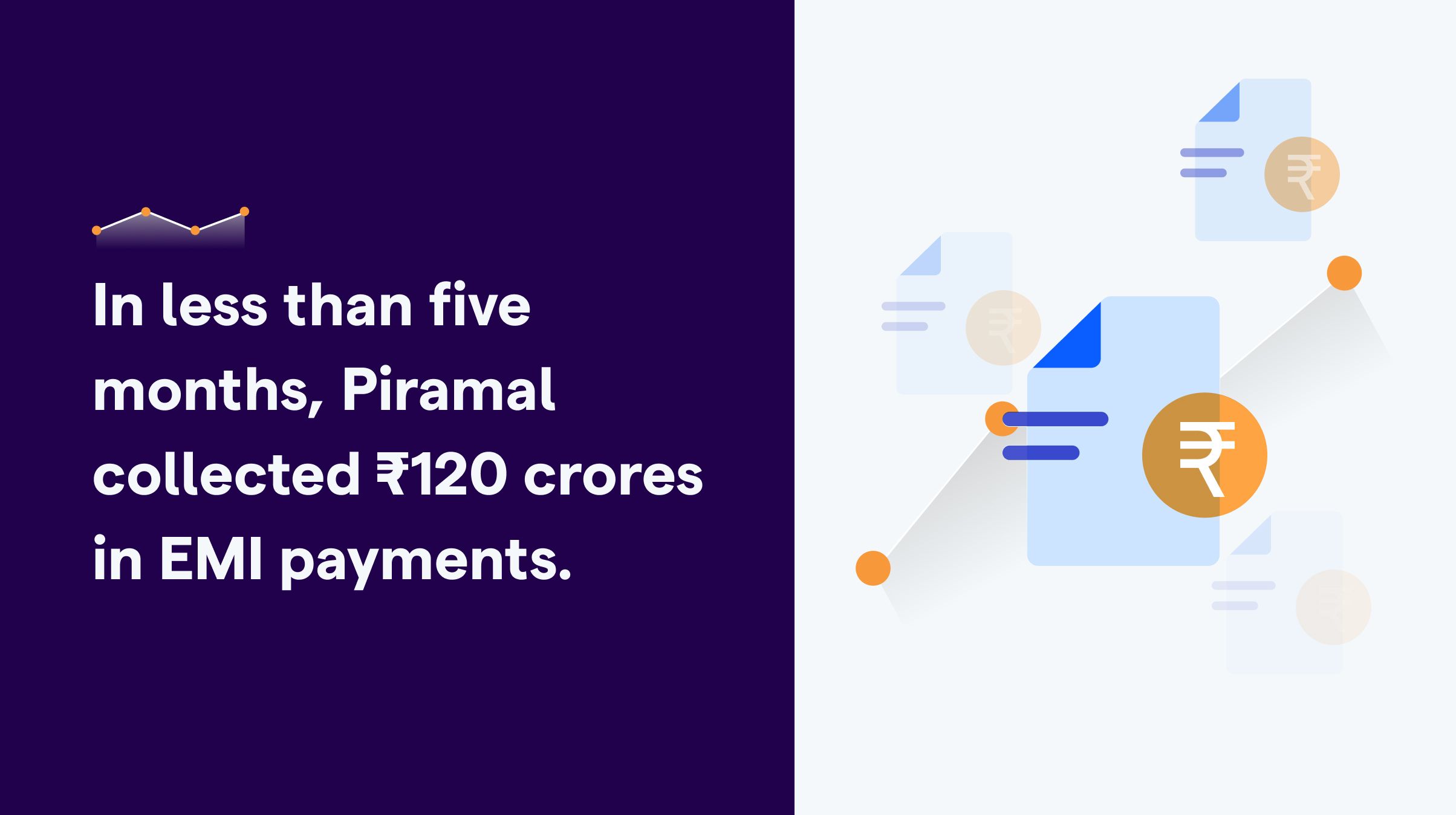 A digital revolution had taken place
Payments could be made 24/7 and reflected promptly in customer accounts. Reconciliation and registration became significantly more efficient.
The operational improvements were staggering; the company could reduce its dependency on call centers, improve its collection efficiency, and now has witnessed a surge in customers migrating to digital payment methods.
This enhancement in customer experience and operational efficiency resonated with Piramal's digital-first philosophy.
Emboldened by their successful partnership, Piramal Finance envisages a promising future with Setu in other areas of fintech.
In retrospect, the partnership with Setu's BBPS BOU has been pivotal for Piramal Finance. They have not only mitigated operational inefficiencies but also catalysed a significant reduction in costs and enhanced customer experience. Piramal heralded this change to their customers, reinforcing their commitment to a digital-first ethos.
As Piramal Finance prepares to deepen its partnership with Setu, this case study stands as a testament to the transformative power of the right technological alliance in the financial sector.
---