Loans on WhatsApp?
10 Aug 2022 — PRODUCT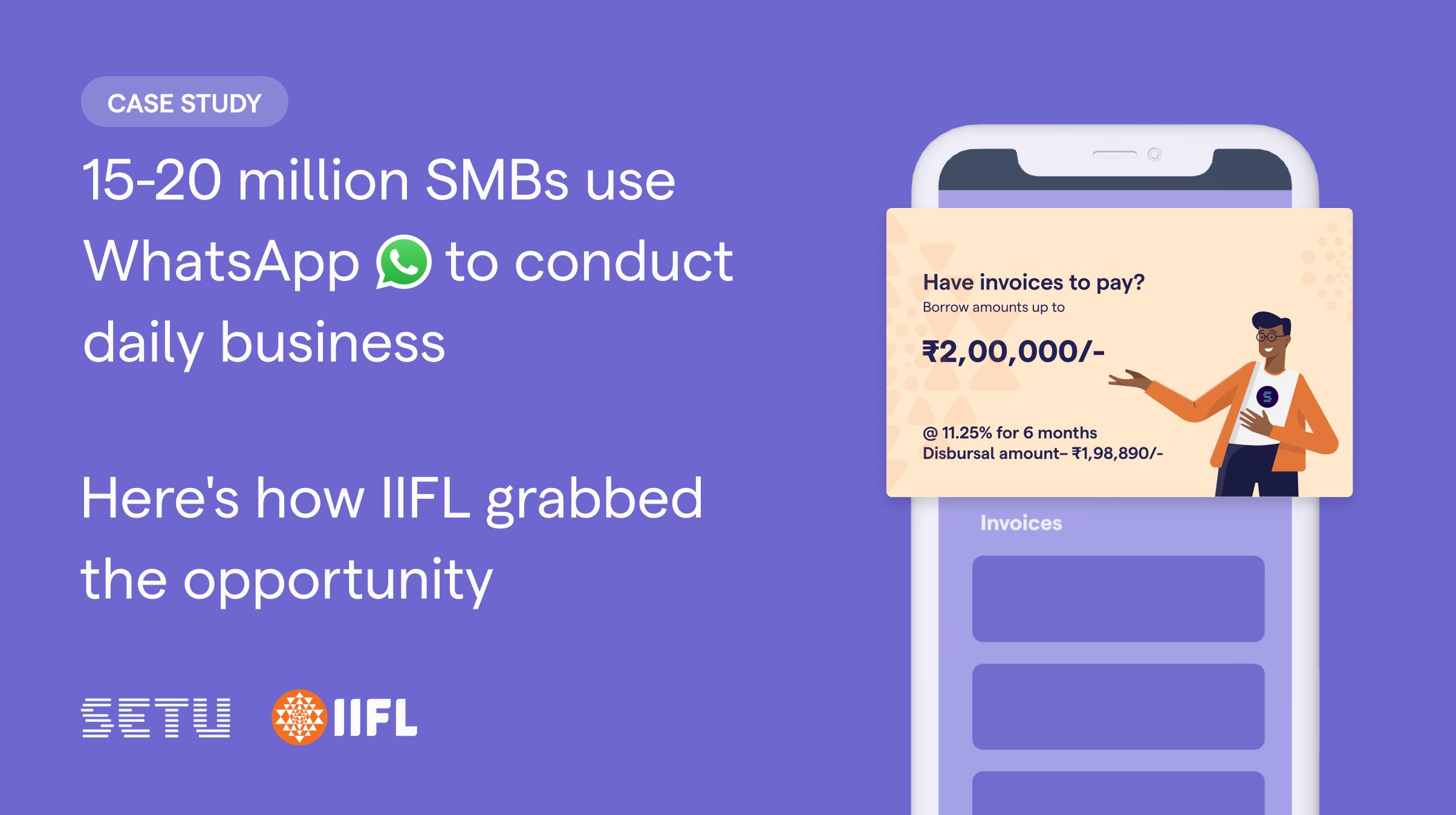 Offering digital business loans is a huge challenge. Unlike personal loans, business loans are almost always of large ticket sizes. This implies a higher risk for lenders. Besides, business loans have their own set of requirements in KYC and financial health scores. Even if an SME has all the necessary data, verifying this and disbursing a loan has its own set of challenges.
This is just a glimpse into the issues faced by India's massively credit-deprived and under-penetrated SME market.
For IIFL Finance, however, the thesis has been simple — over 15-20 million Indian SMEs use Whatsapp every day to conduct their regular business. Why not enable a simple loan offering for them there?
IIFL Finance is one of India's largest players in the financial services space with a growing network of over 2000 branches across 500+ cities. Their focus is to keep loan products simple— ensuring transparency and unwavering commitment to end customers. IIFL's tagline 'Seedhi Baat' encompasses this philosophy of theirs.
A loan application, even for an MSME or enterprise, comprises several complex steps — first comes checking the financial health or credit score of the loan applicant. A credit score denotes an applicant's creditworthiness and their ability to repay the loan on time. A high credit score means the applicant is credit-worthy and is eligible for a loan.
Then comes verifying the applicant's identity— Are they really who they say they are? Here, verifying the PAN, Aadhaar card, Business registration certificate and GST details with public databases is an important step. This is followed by the bank account validation process, which is a layer of verification to identify whether the provided bank account details belong to the applicant or not. Once these details are collected, a lender moves to verify the applicant's income or turnover. This is done to ensure that the applicant has a turnover that is sufficient enough to pay monthly instalments of the loan amount.
Once these details are collected, a lender then proceeds to get the loan agreement digitally signed by the applicant along with a mandate registration. A mandate is a standard instruction that is provided to an applicant's bank allowing a lender to automatically debit the mentioned amount from their bank account.
IIFL partnered with Setu to enable credit options for small business owners - starting with sole proprietorships who have under <1Cr annual turnover and launched a 100% digitally-enabled loan journey, powered completely on Whatsapp.
To try out the product, simply send a 'Hi' to +9190197 02184 on Whatsapp.
Mehekka Oberoi who oversees IIFL's digital strategy—"We work with a lot of fintech startups but Setu's tech expertise in terms of API builds and workflows for every aspect of the lending journey is unmatched. Setu's obsession with UX and customer centricity is another reason why we love working with them."
IIFL and Setu have brought together the ease of a WhatsApp chat to a loan application and disbursal journey. Powering the flow is a set of APIs and web applications that can handle multiple touch points like KYC, mandate registration and bank account verification.
And now for the first time ever, an SME can discover, complete formalities and get a disbursal, all while having a simple WhatsApp conversation. This innovation has helped IIFL bag an award for 'The best use of mobile technology in financial services' by the World BFSI Congress awards. IIFL and Setu have disbursed more than Rs 50 crores in loan value over the last few months and are well poised to revolutionise India's B2B credit market.
Setu works with banks and NBFCs to help them build personalized lending journeys for their customers. Setu's APIs are being used by hundreds of businesses to reimagine onboarding, payment and lending flows.
---