Snapmint's Account Aggregator success
9 Jan 2023 — PRODUCT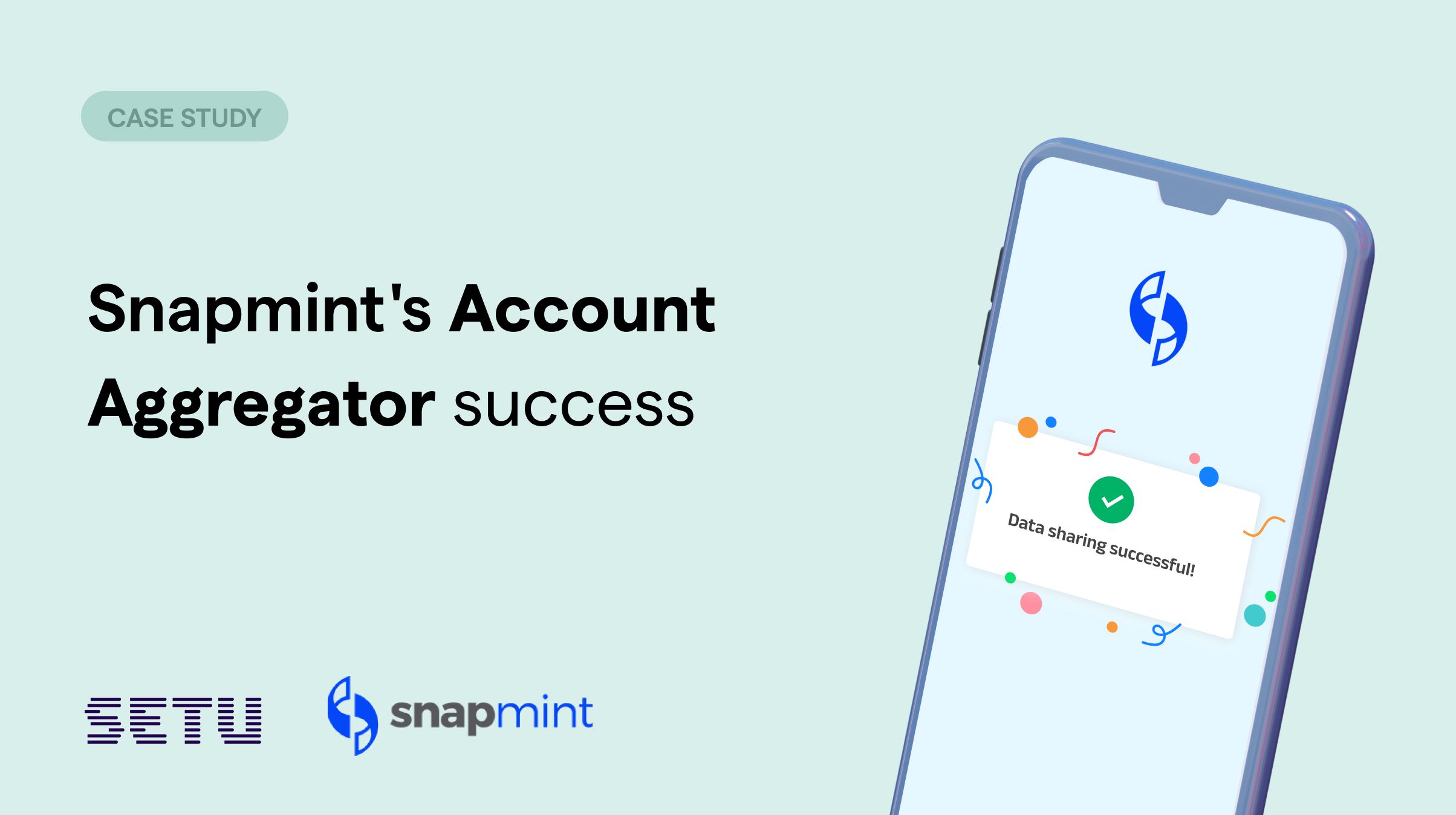 Historically, commerce thrives when backed with financing.
Snapmint is a popular fintech platform that makes shopping in installments possible without credit cards. They enable customers to make quick purchases and provide a paperless—hassle-free—experience.
This is a small piece on how Snapmint went live as a Financial Information user or FIU on the Account Aggregator (AA) ecosystem a few months ago and achieved some damn rewarding results!
Collecting financial data to underwrite customers has always been challenging in our country. The most common method is asking users to upload a PDF copy of their bank statement. This, however, is not easy. Statements from banks are not standardized, hence, verifying them is tough. Also, PDF uploads attract fraud. The only other option was to collect a customer's net banking login details and conduct screen-scraping—which is regarded as being highly intrusive—not to mention, expensive.
Both these challenges nudged Snapmint to look at alternatives and their eyes landed on the growing Account Aggregator ecosystem.
Account Aggregators are RBI-regulated entities that allow a customer to share and manage their financial data with companies under the new Data Empowerment And Protection Architecture framework.
Setu onboarded Snapmint on the Account Aggregator framework by listing them as a registered FIU on this framework. In the financial services space, account aggregation involves the collection, assembly and synthesis of information from multiple accounts, such as loan/credit accounts, savings and current accounts, credit cards, investment accounts, government accounts such as public provident fund and income tax returns data; and many more. The data collection, collation and sharing are enabled through open API connections.
Snapmint now enables its customers to share financial data through a few clicks! Snapmint's adoption of AA has resulted in a 27% increase in revenues, with about 45% of customers completing the AA-based flow for higher credit limits. The number was 7-10% earlier. Since AAs are regulated entities, the potential for fraud scenarios is limited and dropped to 0 for Snapmint's bank statement data fetches—resulting in lower NPAs and an improved bottom line. Snapmint's overall loan processing cost also dropped by 75% from ₹440 to just ₹ 90-110!
Snapmint's successful adoption of Account Aggregator has made them one of the top 10 FIUs that constitute 80% of the overall data fetches in the ecosystem.
Setu is a fintech API Infrastructure company that enables companies to set up on-boarding, payment processing, or other finance journeys.
Setu operates as a technical service provider to licensed AAs. We absorb the regulatory complexity involved in participating in the AA ecosystem and help licensed entities list themselves to fetch financial data in just a few days.
---