Embedded bill payments — The number 1 feature your fintech app needs.
18 Sep 2023 — PRODUCT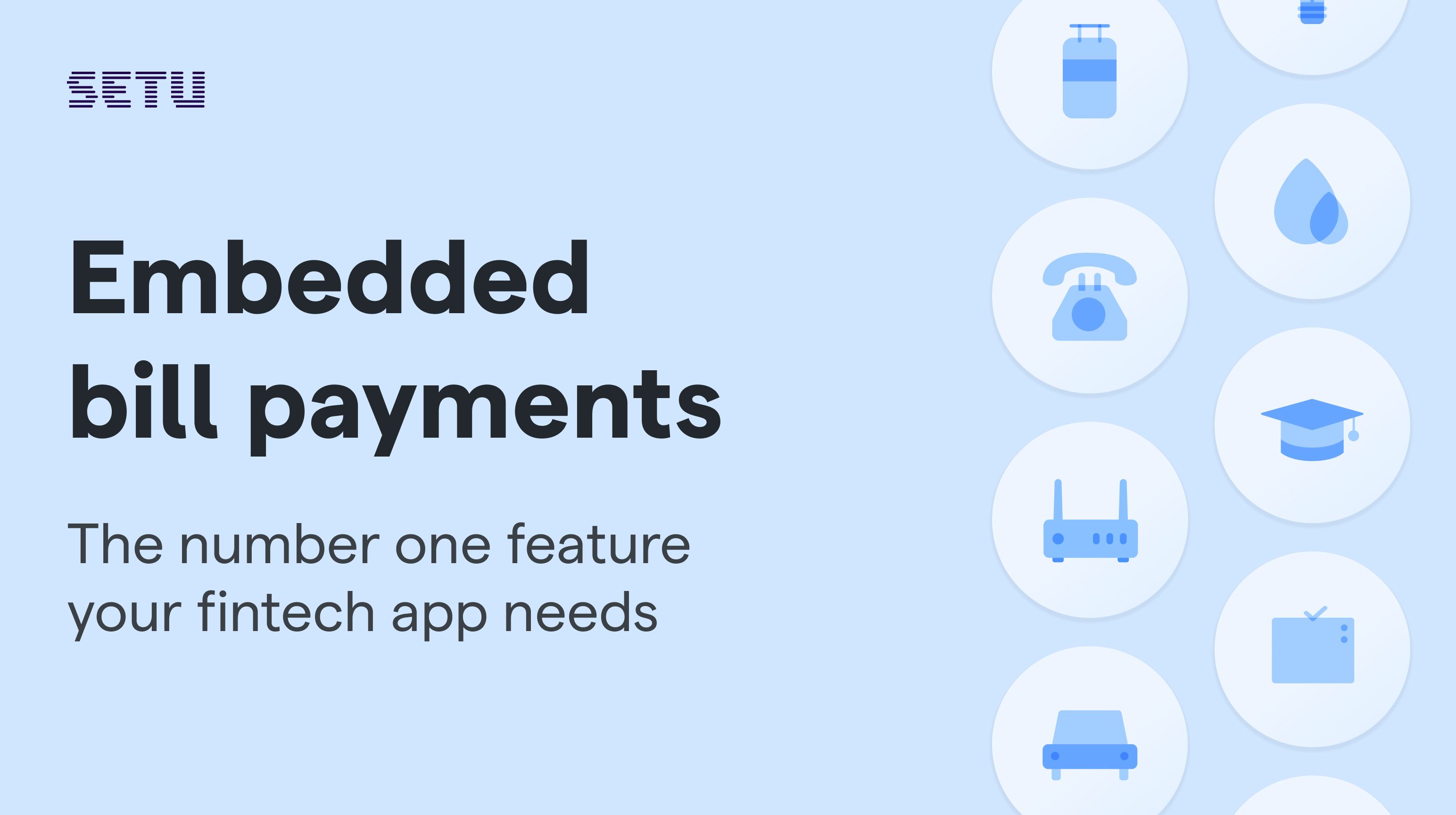 The number 1 feature your fintech app needs—embedded bill payments
Even in today's digital age, it's surprising to note that less than 10% of all bills are paid digitally.
This presents a vast opportunity for online platforms to embed bill payment functionalities to drive user engagement.
Enter Setu's BBPS COU, a pioneering solution designed to seamlessly integrate bill payments into any online app.
The Digital Bill Payment Landscape
Despite the surge in digital adoption, a significant portion of bills for electricity, phone, or insurance premiums etc are still paid offline. Setu's BBPS COU, or Embedded Bill Payments stack, is set to change that.
It empowers any online application to embed and facilitate these bill payments directly on their platform. This not only offers convenience to users but also opens up a plethora of opportunities for the apps themselves.
DriveU, an end-to-end car owner's app, offers FASTag recharges for their users. Kissht, a digital lending platform, offers a line of credit for their users to clear their utility bills.
By facilitating bill payments, apps can significantly increase user interaction. Regular interactions with an app, driven by the necessity to pay bills, can lead to users exploring other features, thereby increasing overall engagement. Moreover, this frequent engagement provides an excellent opportunity for apps to monetize their existing user bases further.

Drawing Customers with Essentials
Consider milk, a staple in most households. Despite being a low-margin product, it's available in almost every neighborhood bakery. The rationale? It's simple–regularity.
By offering milk, bakeries ensure frequent customer visits. Over time, a customer popping in to buy milk might pick up a high-margin pastry or a loaf of bread. This principle of drawing customers with essential, regular needs and then cross-selling higher-margin products is a tried and tested strategy.
Now, let's juxtapose this with popular UPI apps like GooglePay, PhonePe, and Paytm. These platforms facilitate bill payments, not just as a service, but as a "hook" to ensure regular user interaction. Over time, as users frequent these apps for bill payments, they become more amenable to exploring and using other services. Moreover, every bill payment offers an alternative revenue stream for these platforms, as they earn a fee for each transaction. This dual advantage of engagement and revenue has led many online platforms to embed our bill payment features.

Success Stories: Khyaal's Embedded Bill Payments
Khyaal, a popular fintech platform for senior citizens, offers a compelling case study on the power of embedded bill payments. By integrating Setu's solution, Khyaal provided its user base with a seamless bill payment experience, leading to increased engagement and revenue. Read more about Khyaal's success story here.
Setu's BBPS COU stack is more than just a bill payment solution. It's a tool for engagement, monetization, and growth. As the digital landscape evolves, platforms that leverage such embedded functionalities will undoubtedly lead the way, offering users convenience while maximizing their business potential.
---