5 popular ways marketplaces are leveraging fintech
8 Dec 2022 — PRODUCT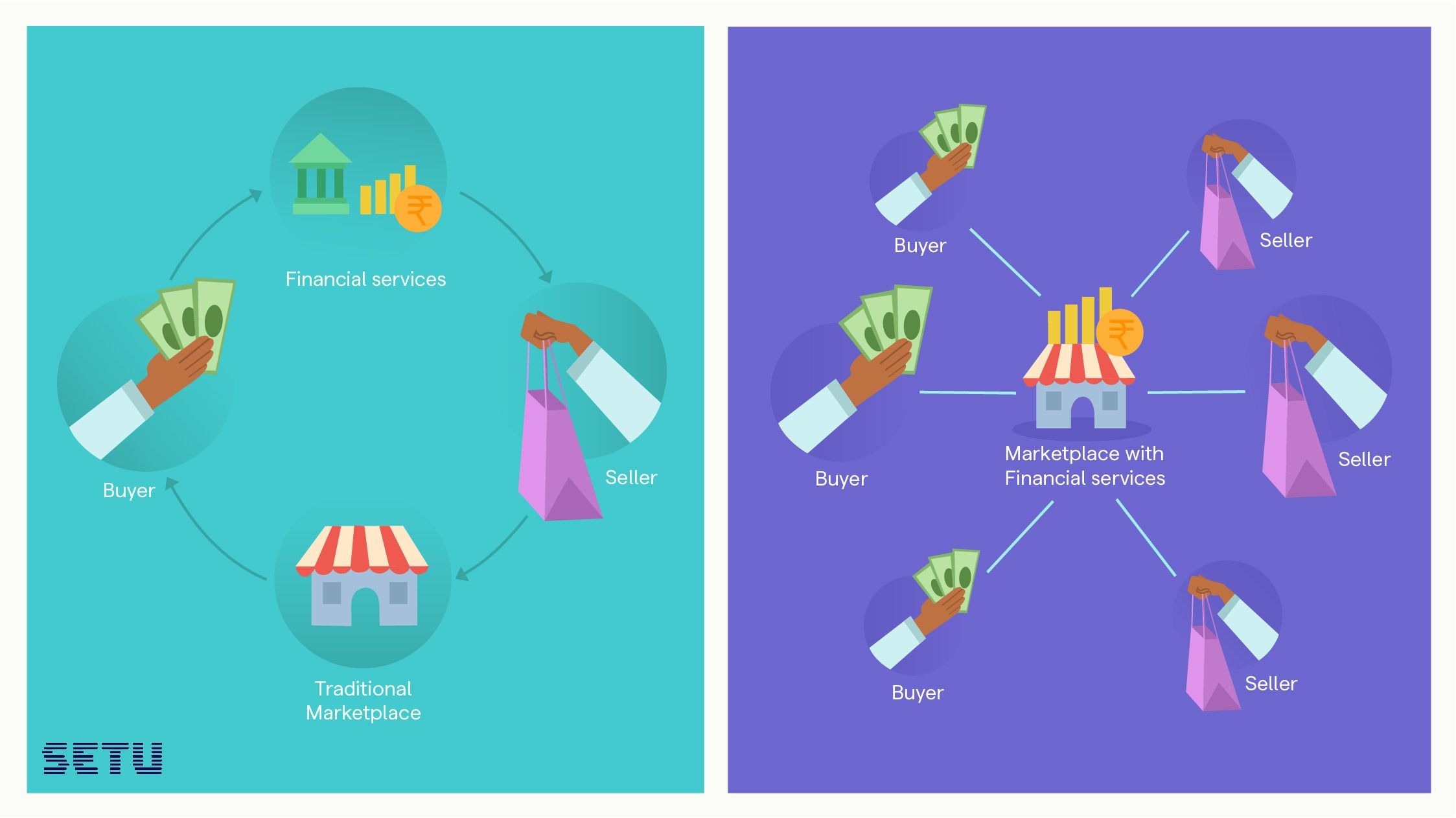 We love shopping at marketplaces, be it at offline spots like Sarojini or online on Flipkart. The sheer diversity in products and services is an obvious merit. Financial products may be another hidden contributor.
Over the last few years, a number of online e-commerce marketplaces have launched fintech products for their users. This isn't a surprise. Historically, commerce has always thrived with backing from financial products. They help build stickiness, and keep customers coming back for more. A famous Rajasthani carpet retailer in Mumbai's Colaba causeway offers a 14-day line of credit to its frequent customers. Local dairies and kiranas often allow deferred payments at the end of the week or month. Online shopping platforms build on this concept too, but with more formal forms of credit. Multiple 'buy-now pay later' schemes are embedded almost on every such site, be it through traditional banks, platforms like ZestMoney or in-house EMI plans like Flipkart Pay Later.
Now, with the cut-throat competition that is typical of e-commerce, it may seem like a lot of good financing ideas have been tried out already. And, the low-hanging fruit has indeed been picked, but an abundance of opportunities await those who are willing to go the extra mile.
Here we talk about some not-so-obvious features that e-commerce platforms have launched, to better engage their customers and improve their margins.
---
Embedded bill payments
Even though milk is an extremely low-margin product, it is sold in almost every neighbourhood bakery. Why? The main reason is to get customers to visit the store frequently. A customer who regularly buys milk from a shop will eventually purchase other products as well. This has a long-term payoff when the customer starts buying high-margin products.
Let's apply the same principle to UPI apps like GooglePay, PhonePe and Paytm. All these apps facilitate bill payments, as a 'hook' to drive frequent customer interaction. This eventually helps them cross-sell multiple products to users. Better still, facilitating bill payments offers an alternative revenue stream, where they get a small fee for each bill paid through their platform.
It's no wonder that several other online platforms like Kissht, Turtlemint, DriveU and others have introduced features to let customers pay bills. DriveU, an end-to-end car owner's app, offers Fastag recharges for their users. Kissht, a digital lending platform, offers a line of credit for their users to clear their utility bills.
You can enable bill payments as a feature on your app or website too.
---
One-click checkout for higher conversions
Have you noticed the presence of a 'Buy now' button in a lot of e-commerce websites of late? Here is a feature that aids faster conversion from product discovery to order placement.
In the past, e-commerce platforms followed a straightforward approach— a customer selects a product, adds it to the cart, reviews and confirms cart items, selects their address, and completes the payment to place the order. In its new avatar, the 'one-click' checkout experience nudges users to confirm an order straight from a product page, with pre-filled address and payment information wherever available.
This helps e-commerce platforms to convert high-intent users into transacting users. A large chunk of users drop off during the final stages of order placement and preventing this is top priority for anyone in e-commerce.
By offering one-click checkout, the e-commerce platform reduces the steps for a user to place an order. Companies like GoKwik and Pickrr have already built their own one-click checkout product and offer them to their merchants. Read about how Pickrr recorded higher user conversions with one-click checkout.
---
Digital wallets making a comeback
UPI has killed the use of digital wallets among customers. Why would anyone want to load money onto a platform and then make a payment if they can directly pay the platform from their bank account? While customer preferences have to be honoured, there is still a strong incentive for merchants to build their own wallets.
Take Swiggy as an example. Recently, it has launched its own digital wallet as the default payment option for all its users. Swiggy also encourages wallet adoption by processing instant refunds to this wallet instead of the original payment method. This nudges users to adopt the wallet, and their funds remain with Swiggy.
---
Embedded investments for increased retention
Companies that manage a user's investments typically have strong retention. Users inherently trust the platforms that hold their money. So, offering investments is another feature that marketplaces are using to increase customer retention.
Investments aside, other fintech products like sachetised finance services and cross-border payments have been increasingly adopted by e-commerce marketplaces over the last few years. Ola enabling micro-insurance of Re. 1 for every car ride, is a great example of embedded, sachetised insurance.
---
Co-branded cards for customised financing
This one is particularly interesting. Since most marketplaces are not financially regulated entities, they partner with banks and issue co-branded credit or debit cards. With cards, companies can create personalised plans that reward their users for usage on their platform as well as their partner platforms as well. This is another great way to incentivise customers to spend more. MakeMyTrip's co-branded card with ICICI is one such example. MMT rewards their users for card usage on their platform by offering cashback on flight and hotel bookings. Pretty neat, huh?
---
See how Setu's fintech products can supercharge your marketplace
---