Unlocking the Potential of DigiLocker
3 May 2023 — PRODUCT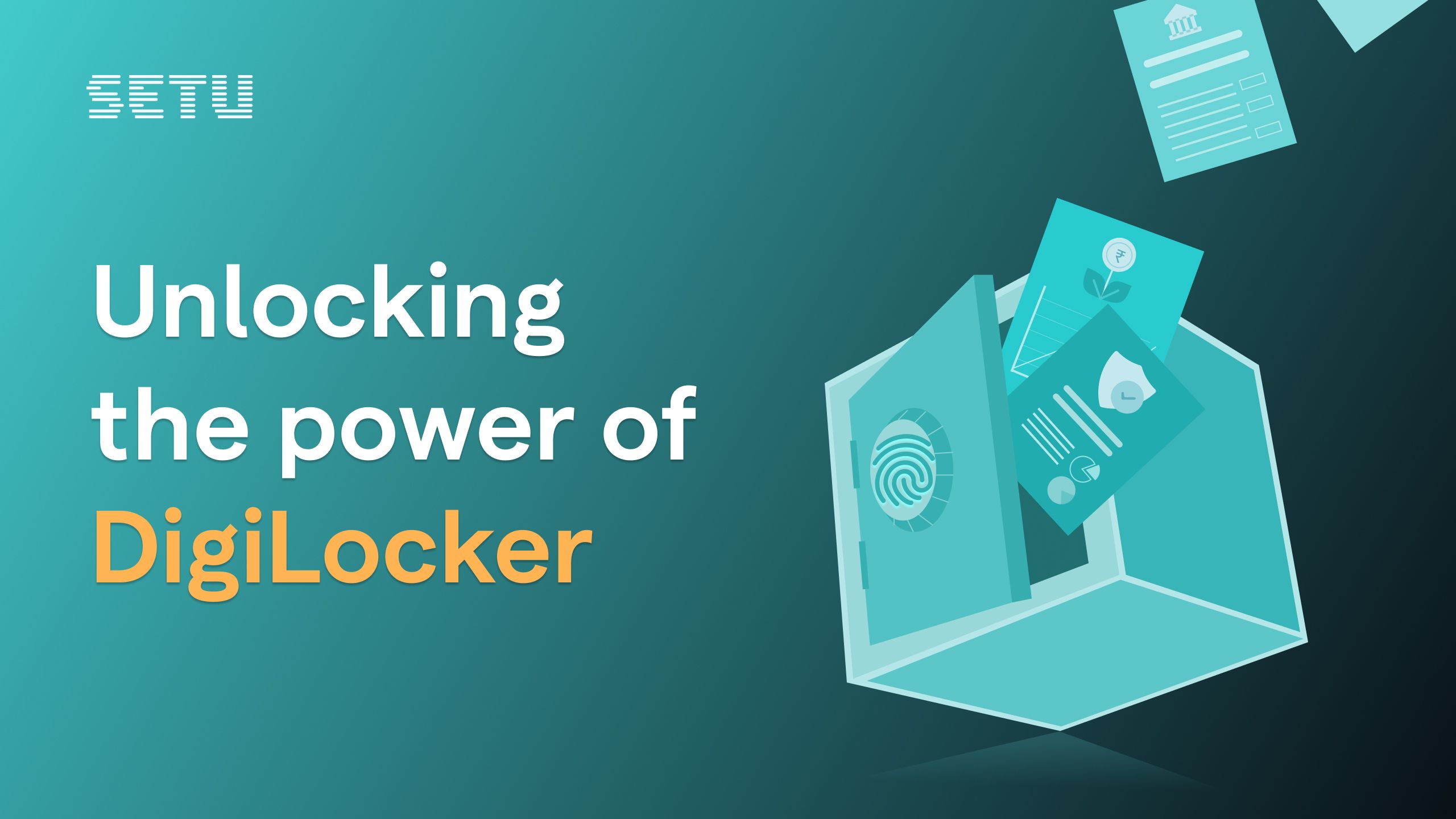 This is a story about a magical digital locker with the power to simplify our lives. No, it's not the stuff of fairy tales; it's called DigiLocker, and it's here to change how we manage and share documents.
Once upon a time, we all had to carry physical copies of our documents like PAN, Aadhaar, and driving licence everywhere we went. Even managing digital copies of these documents on our phones or laptops was hard. The hassle of keeping them safe and organised was a constant worry. This is when DigiLocker came to the rescue.
With this digital locker, we can store all our essential documents in one secure place, without having to worry about losing them or carrying them around. It's like having a portable vault for all our important papers. We can also link our DigiLocker wallet to any website or app we use, and share these documents in a safe and secure way.
Now, you might be wondering how Setu fits into the DigiLocker story. Well, we'll explain how we're working hand-in-hand with DigiLocker to make our clients' lives even more comfortable.
DigiLocker is a key initiative under Digital India, the Indian Government's flagship program aimed at transforming India into a digitally empowered society. It ties into Digital India's vision of providing citizens with a secure document access platform on a public cloud. Targeted at the idea of paperless governance, DigiLocker is a platform for the issuance and verification of documents & certificates in a digital way, thus eliminating the use of physical documents.
DigiLocker has helped in bringing a paradigm shift toward paperless onboarding.
It's like a digital treasure chest, where we can keep all our valuable documents safe and sound. There are 161.37 million unique users on Digilocker with 5.62 billion Issued Documents. This is huge, right?
Just to compare—UPI, India's darling digital infrastructure, is at about 260 million registered users. Digilocker is not too far off, eh?
Here comes the surprising bit
Digilocker still remains an underutilized way for companies to collect official documents from their users. There are several categories of documents that can be fetched from DigiLocker, with endless use cases.
Setu, as you know, is a fintech API infrastructure company. We want to build plug-and-play APIs on top of public digital infrastructures and enable innovators to build interesting and new use cases for their users.
By building a developer-friendly DigiLocker stack, we offer a seamless, one-stop solution for all document collection needs. Need to collect your user's ID proof for a loan application? No sweat! With Setu's DigiLocker, you can do it with just a few clicks. Want to collect the driving license of your partner for a cab-hailing service? Do it with a simple API call!
No more asking your users to rummage through their files to share a simple document.
But the magic doesn't end there. By using Setu's APIs, developers can create innovative applications and services that tap into DigiLocker, making it even easier for users like you and me to access or share documents anytime, anywhere.
Apart from PAN, Aadhaar, and DigiLocker, there are hundreds of other documents that can be fetched from DigiLocker.
So, we hope we could convey the mammoth potential of DigiLocker and the role we play in unlocking its power. Together, we're not only simplifying document management but also creating a secure, digital-first future for companies.
And remember, this isn't just a story—it's the beginning of a new chapter in building onboarding experiences. Experience the magic of Setu's DigiLocker for yourself here.
The end—or should we say the beginning?
---