Setu is now a part of Pine Labs
23 Jun 2022 — FOUNDERS
ANNOUNCEMENTS
Let's travel back to 2018.
This was a time when the pandemic wasn't a thing yet. Crypto was all the rage. An American had just become part of the British Royal family. Neobanks were non-existent. The Cambridge Analytica/Facebook scandal was just breaking, and Bezos became the richest person in history.
It was also a time when 'embedded finance' to most people meant coins stuck in concrete. To us, it was the future.
Setu was founded with a singular objective—to bring Lakshmi into every home. We obsessed over how technology could be used to drive financial inclusion. And to us the answer was simple—embed formal financial products into any and every application to dramatically reduce the cost of distribution.
We wanted to build world-class API infrastructure that made it possible for anybody to build and offer financial services easily. This idea and mission was what gave birth to Setu, and we were lucky to find our first believers—Lightspeed India and the Bharat Innovation Fund.
And that began the wild roller-coaster ride that is us today. It took a good year and half to launch our first product named Collect—a bill collections platform—in close partnership with PhonePe.
Within two weeks of launch, along came COVID. We shut down the office, much to the chagrin of Sahil.
Yet, our tribe grew—we went from just over a dozen folks to over a hundred Setuzens. For us founders, the best part of this journey has been our people. There is something special about all Setuzens. We have and continue to operate as a community that loves to learn, build and support each other.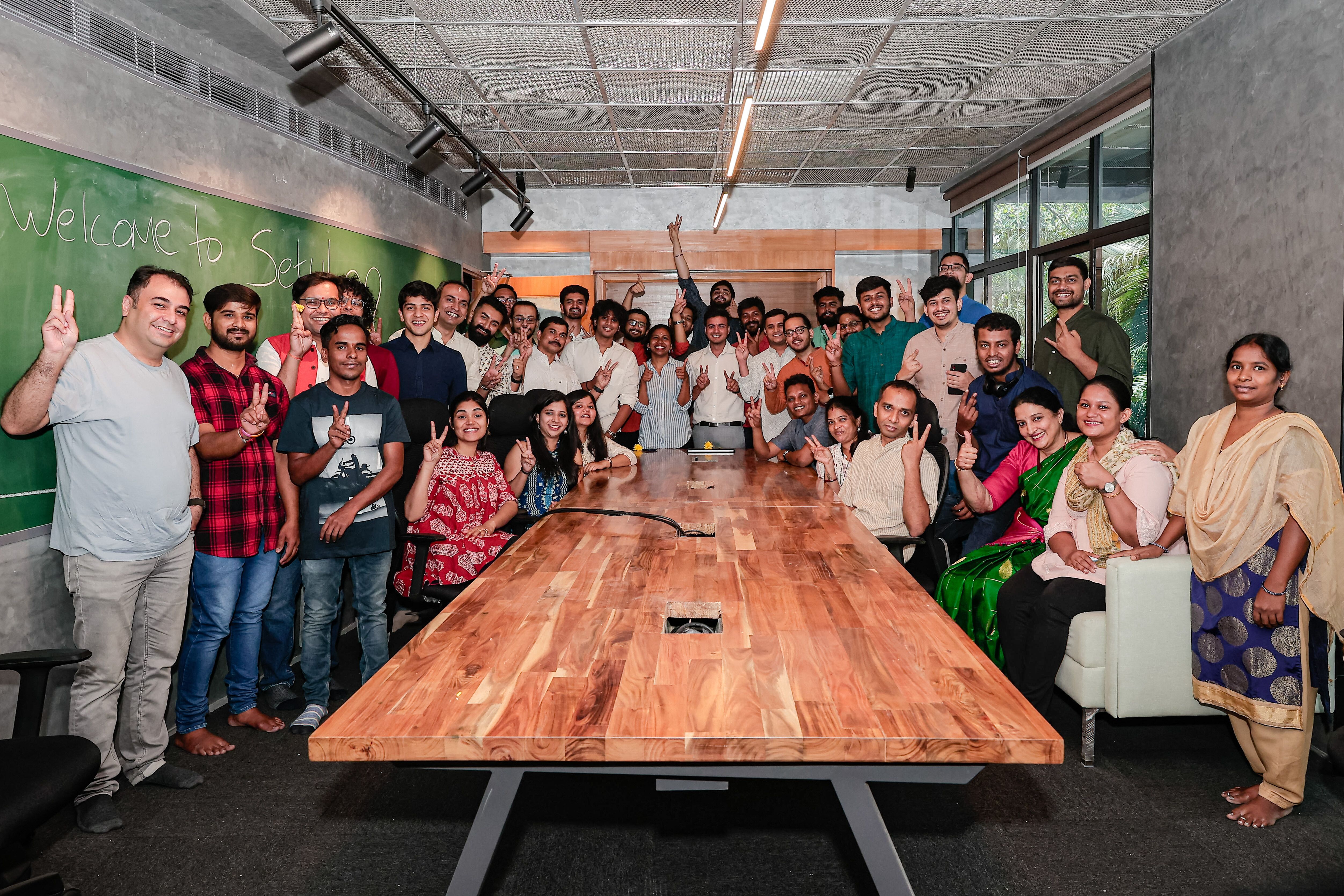 Since then, in less than two years, we have grown to processing close to $2 billion a year and shipped a ton of industry-first products across payments, deposits, lending and data—changing the way financial services are delivered in India.
We pioneered multiple categories in BBPS, including loan-repayments, where we hold the largest share of transactions. We also made financial services accessible via WhatsApp, a platform that India seems to love. Via Setu, customers pay a hundred bills every minute. We've reinvented eSign, driving 30% more document signings across the board. We are the go-to tech stack for Account Aggregator. All of this earned us a nice little spot on Google's earnings call late last year. Not bad, no?
But all this is still just scratching the surface. Where do we go from here? How do we 10x this rocketship? We decided it was time to join forces with a fintech powerhouse, to truly make a scalable shift in a country as diverse and unruly as India.
Rewind to 2018. We had met Amrish Rau, an industry veteran and CEO of Pine Labs, a quarter-decade old behemoth in the fintech space. Nikhil, in his typical fanboy fashion, extolled the virtues of an API-led financial ecosystem to Amrish. It had piqued Rau's interest, and the trio had kept in touch—and we would occasionally reach out for pointers and help.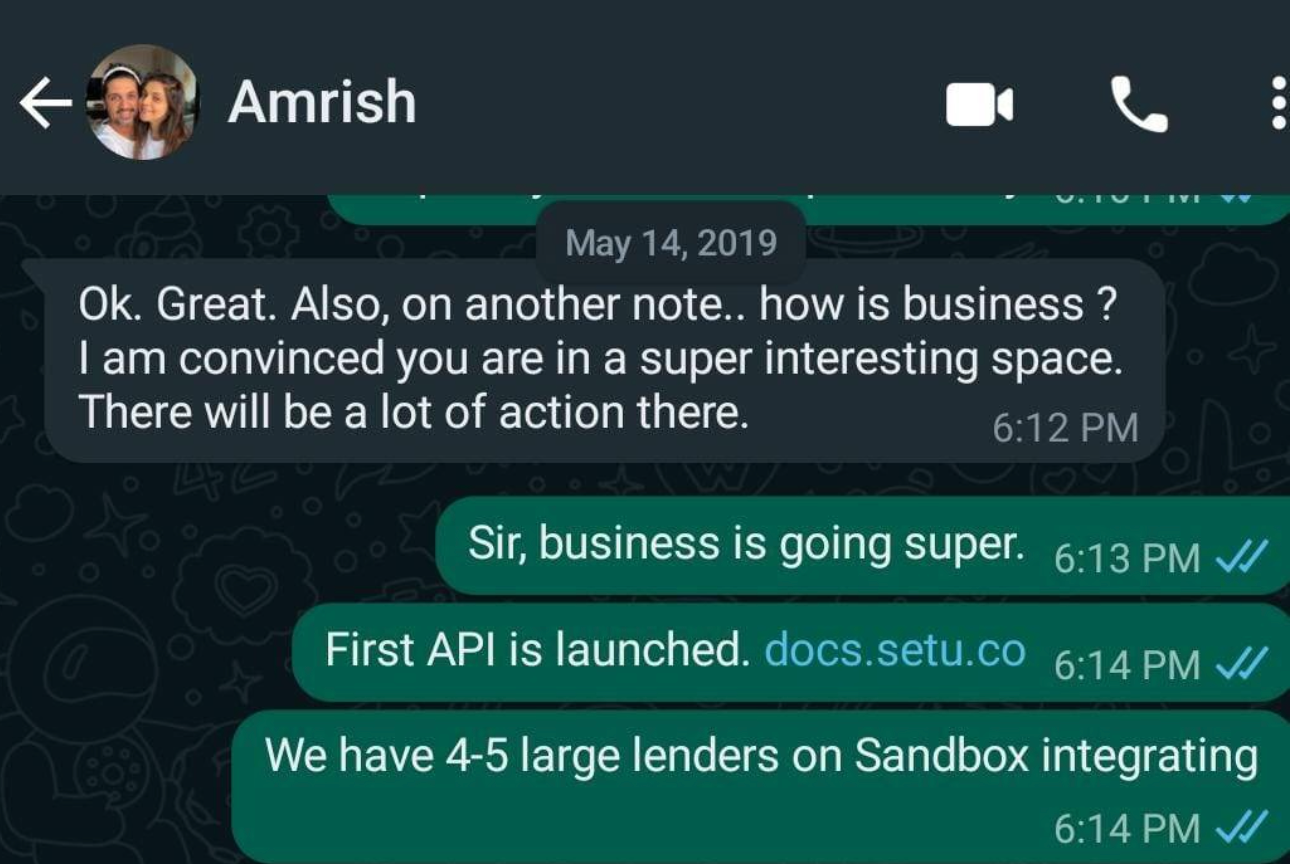 Just a few moments ago, we signed a partnership with Pine Labs to become a fully owned subsidiary.
This alliance is one of mutual admiration—and opens up a whole new chapter for us at Setu. Pine Labs has been a pioneer in digital payments for over 2 decades now, and practically invented EMI at checkout. Under Amrish's visionary leadership, Pine Labs is expanding rapidly into new areas with the launch of their new payment gateway—Plural, and multiple savvy acquisitions like Qwikcilver, Mosambee, Fave and QFix.
In short, Pine Labs is obsessed with building India's boldest fintech. By partnering with them, we get access to India's largest merchant network and the benefit of deepening our relationships with the financial ecosystem. We are now multiple steps closer to making financial services affordable to the rest of India.
We think that in the next 3-5 years, over half a billion people will make their first digital payment and new platforms like UPI, Aadhaar, Digilocker, Account Aggregator, OCEN and ONDC will significantly lower the transactional and on-boarding costs.
This means millions of new accounts across payments, insurance, investments, lending and financial advisory services—our dream will become a reality in the near future. With Amrish and Pine Labs by our side, we're confident of accelerating this journey. In the immortal words of Rick Blaine, this is going to be the beginning of a beautiful friendship.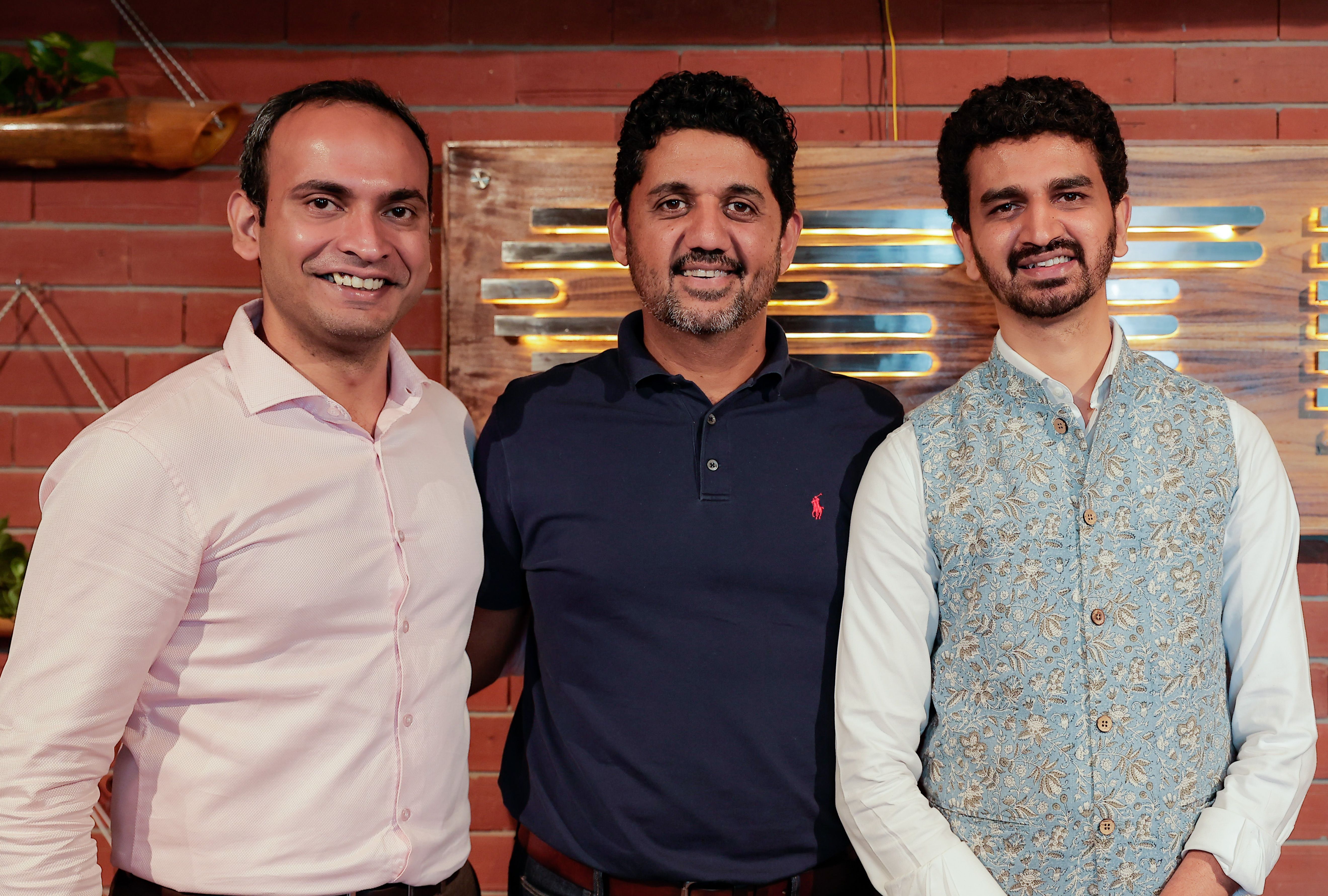 So what's next? While so much changes for us, many things stay the same. We will retain our team, our brand, our business, our customers, our gorgeous office and most importantly, our soul. We're excited to build this next phase of Setu where Pine Labs will empower us with autonomy and turbocharge us with synergy.
The result—a whole new Setu that's bolder and more fearless than ever. Come be a part of this tribe, we're always looking for people who can make a difference.
See you guys on the other side.
— Nikhil and Sahil.
---