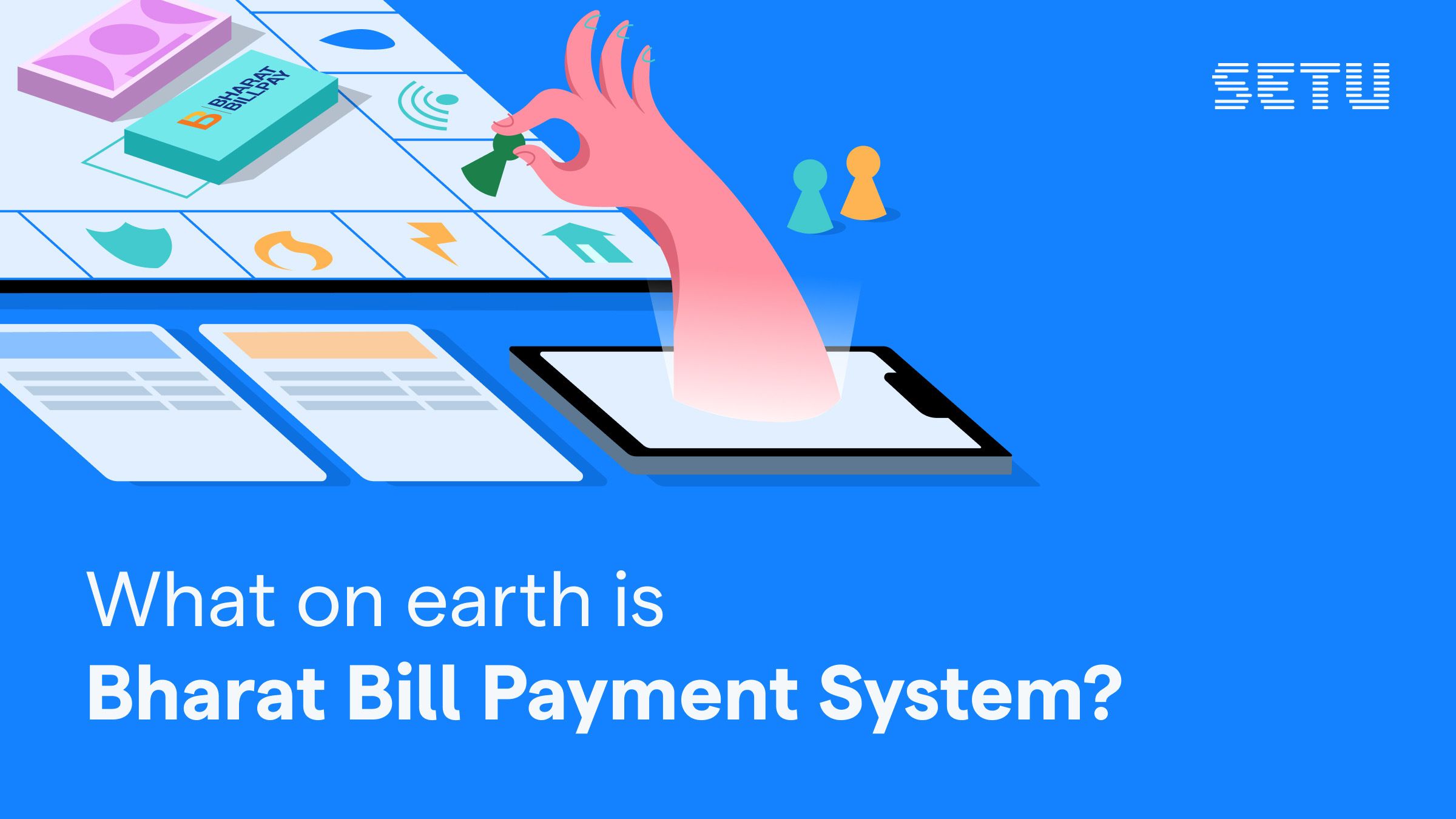 The first week of the month. It's the anticlimax to payday. The karmic balance hits you in the form of bills. Lots of bills. Electricity bills, phone bills, rent, among others.
Bills, like death and taxes, are inevitable.
Having to worry about due dates and bill payments is rather familiar. Some of us may recall having to do a bit of jugaad to reduce this headache in the past—like asking family members to deposit cash at payment counters.
But such options were available to only some, the majority had to travel physically to a payment point, stand in long queues and spend hours waiting for a simple transaction.
---
Enter, digital payments#
With the hockey-stick growth in India's digital adoption, our offline attempts at jugaad have thankfully gotten replaced by a centralised, digital utility bill payment system.
BillDesk and BillJunction were amongst the first to develop an online payment platform, called Electronic Bill Presentment and Payment (EBPP). Here, agents such as banks and third-party payment platforms were on-boarded on one side of the platform, while businesses like utility companies, telcos, NBFCs, and insurance on the other.
Agents or apps using their infra, could provide bill payment services to their consumers by integrating with EBPP. And businesses could easily get paid online. However, despite this system being in use for almost a decade, it was plagued with issues for both businesses and customers. And a core issue was the lack of interoperability—
A biller who had signed up with BillDesk was available to only BillDesk agents and their customers. If a biller wanted to also become available on another channel, say TechProcess, the agent had to do a new integration with the EBPP platform of TechProcess.
This was frustrating for everyone. That's when the one-bill-payments-solution-to-rule-them-all arrived on the scene.
---
The Bharat Bill Payment System - BBPS#
A lot of us today probably can't remember the last time we visited a physical office to pay an electricity bill. We usually open our favourite UPI app, and in a few clicks, we're done with the payment. The next bill is next month's problem.
This level of convenience is powered by BBPS. Popular payment apps have all BBPS businesses available on them. This means that any user can open their preferred payment app, find their bill for a BBPS business and pay with ease, without having to go to any other website or a physical outlet.
This is powerful, because India has a lot of recurring payments to process—electricity bills, water bills, mobile recharges, loan EMIs and OTT subscriptions, to name a few. For most customers, it's quite a task to remember the due dates for all their bill payments. And when they do remember, visiting an offline payment point or using a service provider's website to pay is nothing short of an ordeal.
Check out Bangalore's largest electricity provider's (BESCOM) website below. Try making your next electricity bill payment here. You'll surely be tempted to pull your hair out!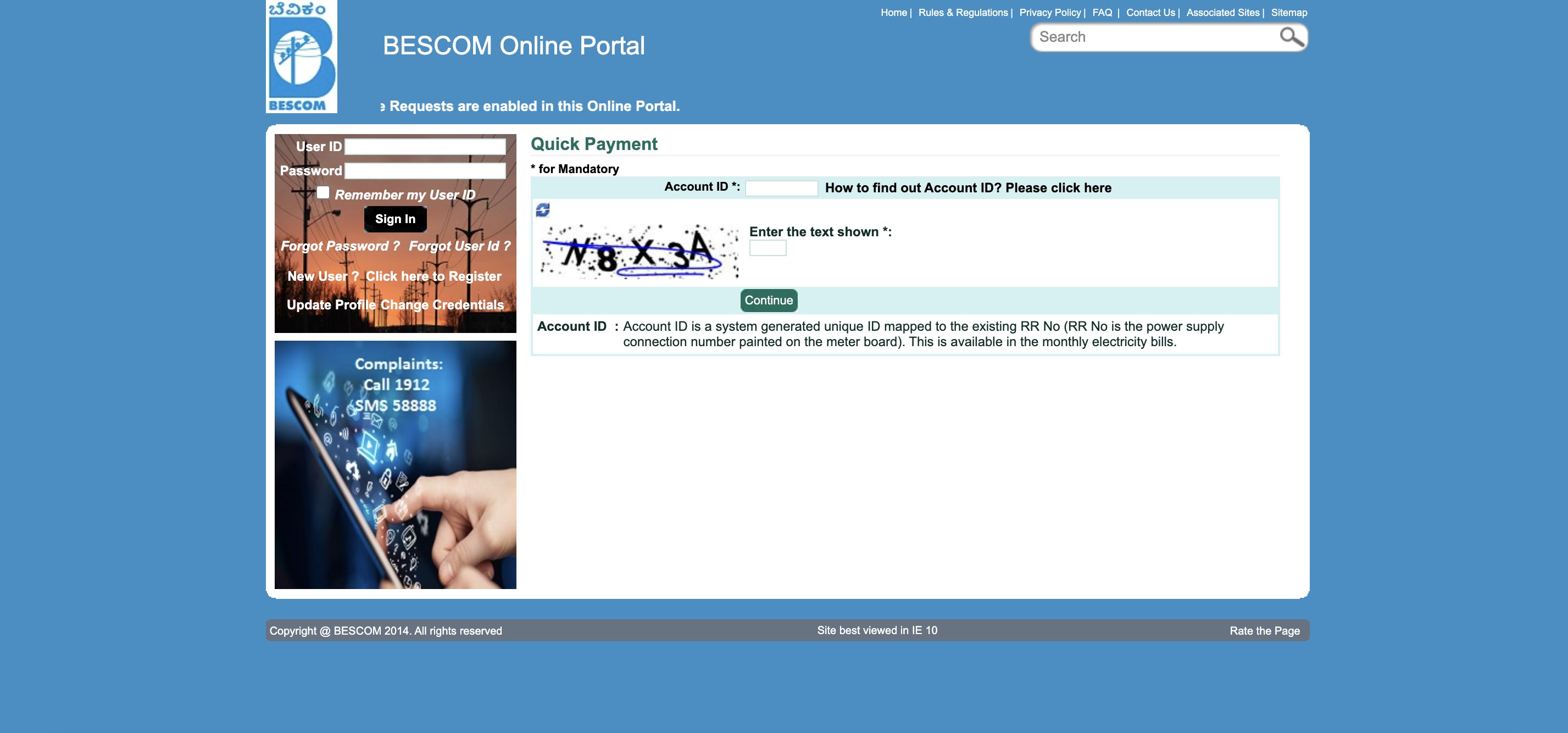 The website of Bangalore's largest electricity provider (BESCOM)
Now, as an alternative, BBPS or Bharat Bill Payment System provides an interoperable setup, that lets businesses become available across all payment apps by just getting on-boarded once on to BBPS. And with digital payment options on these apps, a customer can make payments from anywhere at all. They can also raise a dispute in case of faulty payments. The BBPS setup is backed by RBI, assuring all parties of its reliability.
As a consequence, BESCOM needn̦'t worry about building and maintaining a website for the best bill payment experience. Instead, it can become available on all payment apps, so that their customers can find and pay them.
---
BBPS—Okay, what else do I need to know?#
The BBPS system broadly comprises of two entities—businesses or billers (your electricity boards, water boards, lending institutions) and Agent Institutions (apps like GPay, PayTm, PhonePe).
So, when you're paying your electricity bill on PhonePe, PhonePe is the Agent Institution and your electricity provider is the biller.
Other entities involved in BBPS—#
| | |
| --- | --- |
| Bharat Bill Payment Central Unit (BBPCU) | The Reserve Bank of India (RBI) has allowed National Payments Corporation of India (NPCI) to act as the Bharat Bill Payment Central Unit (BBPCU). As the Central unit, NPCI is in charge of establishing business standards, rules, and regulations for technical and commercial needs for all participants. For transactions that are routed through BBPS, the BBPCU handles clearing and settlement tasks. |
| Agents | Entities that collaborate with the Customer Operating Units (COUs) to gain access to the BBPS system. Customers are brought to the platform by agents via application, website or counters. |
| Agent Institutions | Customer touchpoints for bill payments. These could be digital apps or physical outlets as well. |
| Billers | Entities that collect recurring payments are referred to as billers. Utility firms, telcos, DTH providers, NBFCs and other businesses fall under this category. |
| Biller Operating Units | The BBPS platform's Biller Operating Units are organisations that have signed up billers. |
| Customer Operating Units | The BBPS platform's Customer Operating Units are organisations that have signed up customer facing platforms as collection agents. |
And the adoption of BBPS is massive. With its variety of recurring bill payments, such as electricity, telecom, DTH, gas and water bills, loan repayments, insurance premiums, institution fees, Fastag recharge, local taxes, and housing society payments, BBPS has processed around Rs.11,324 crores worth of bill payments, in April 2022 alone.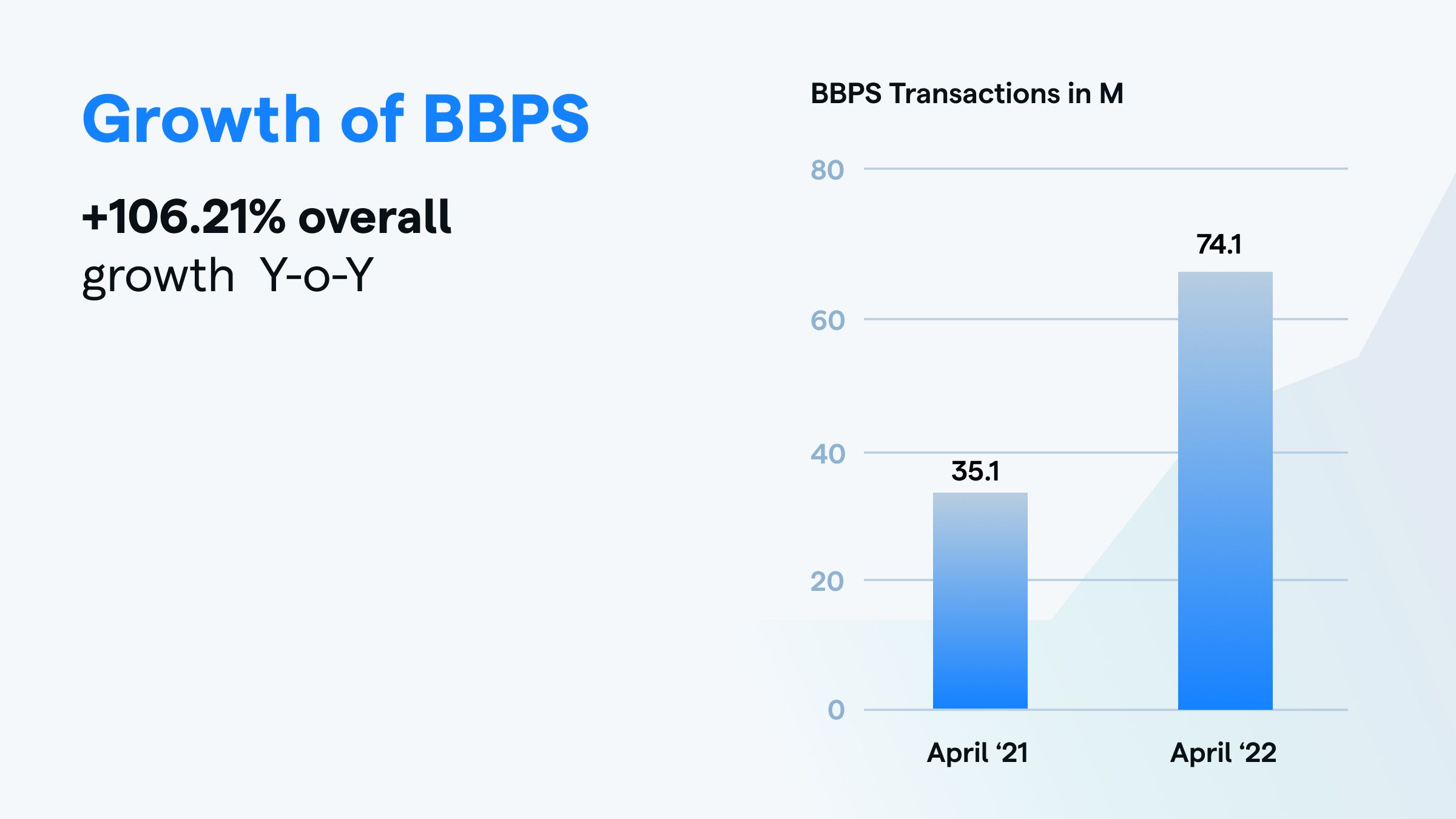 We've also seen a 100%+ growth YoY in transaction volumes through BBPS. See data source.
The BBPS journey has been remarkable, with quick acceptance spurred by new-age tech, along with massive customer adoption.
---
What role does Setu play here?#
Setu sits in the middle of the BBPS ecosystem as a certified Technical Service Provider or TSP.
Using Setu's APIs, you can integrate with—
BBPS BOU, for billers—On-board your business on BBPS and in turn, be discoverable across all popular payment apps like PhonePe, GooglePay, PayTm, BHIM and offline touch points.

BBPS COU, for customer-facing platforms—Become a digital bill payment end-point to collect bill payments from all your customers, and earn revenue for every bill you collect through your platform.
Sounds interesting? You can contact us here to have a chat.
---