How ETMoney tasted 30 percent higher conversions with Setu's eSign APIs
4 Jul 2022 — PRODUCT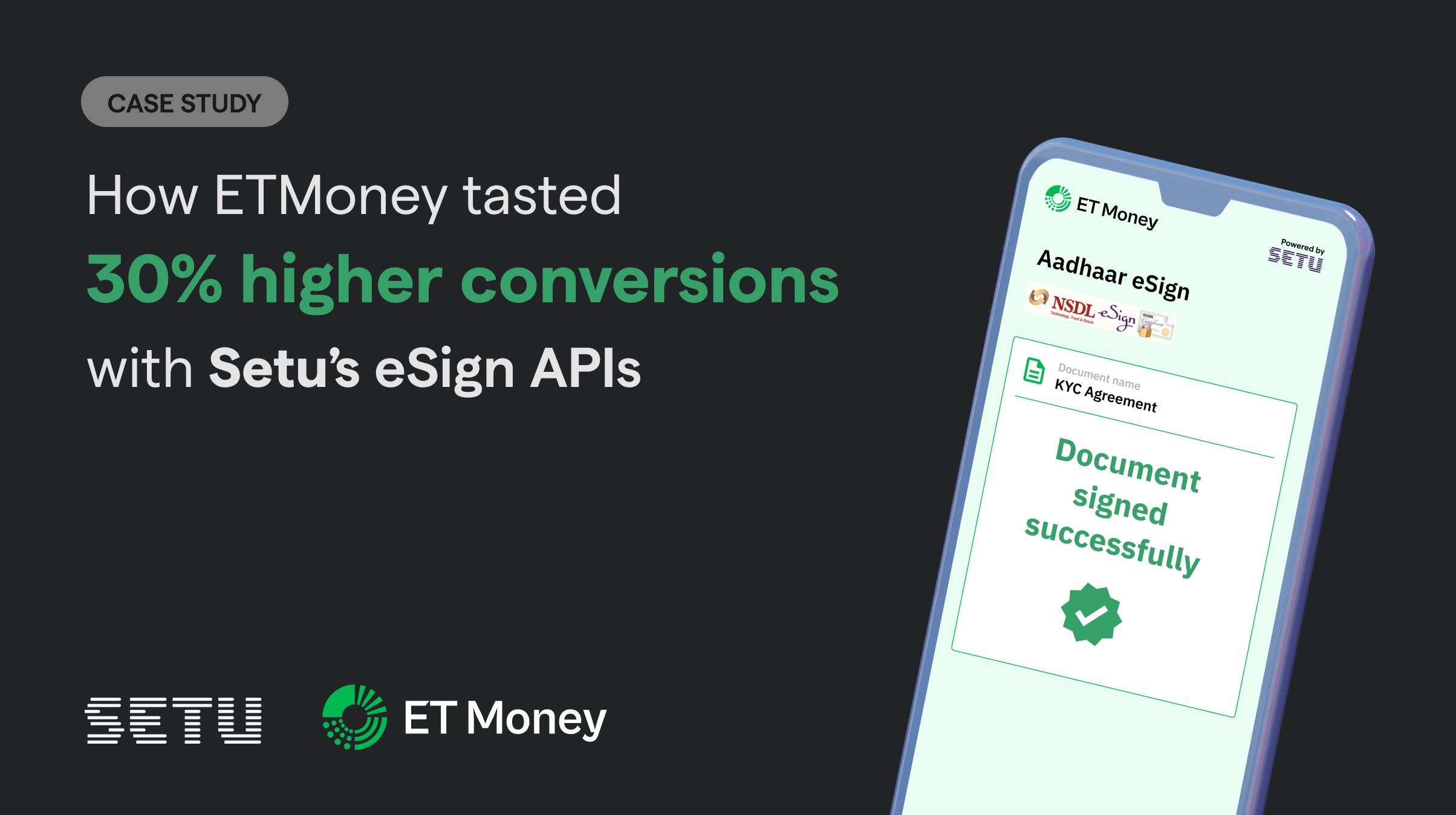 ETmoney today is one of India's fastest-growing investment apps with more than 7 million users interacting with the platform – from mutual fund investments to savings to retirement corpuses with the National Pension System (NPS). The platform also offers a diverse array of financial services like insurance and loans to their user base. But however, the all-encompassing 'financial god' role it plays, comes with its own set of challenges. Digitally onboarding end users to offer financial services is extremely complex.
But that is also the case with most investment platforms out there. The typical north star metric would be— Onboarding conversions, i.e users who start the journey vs users who successfully complete the journey.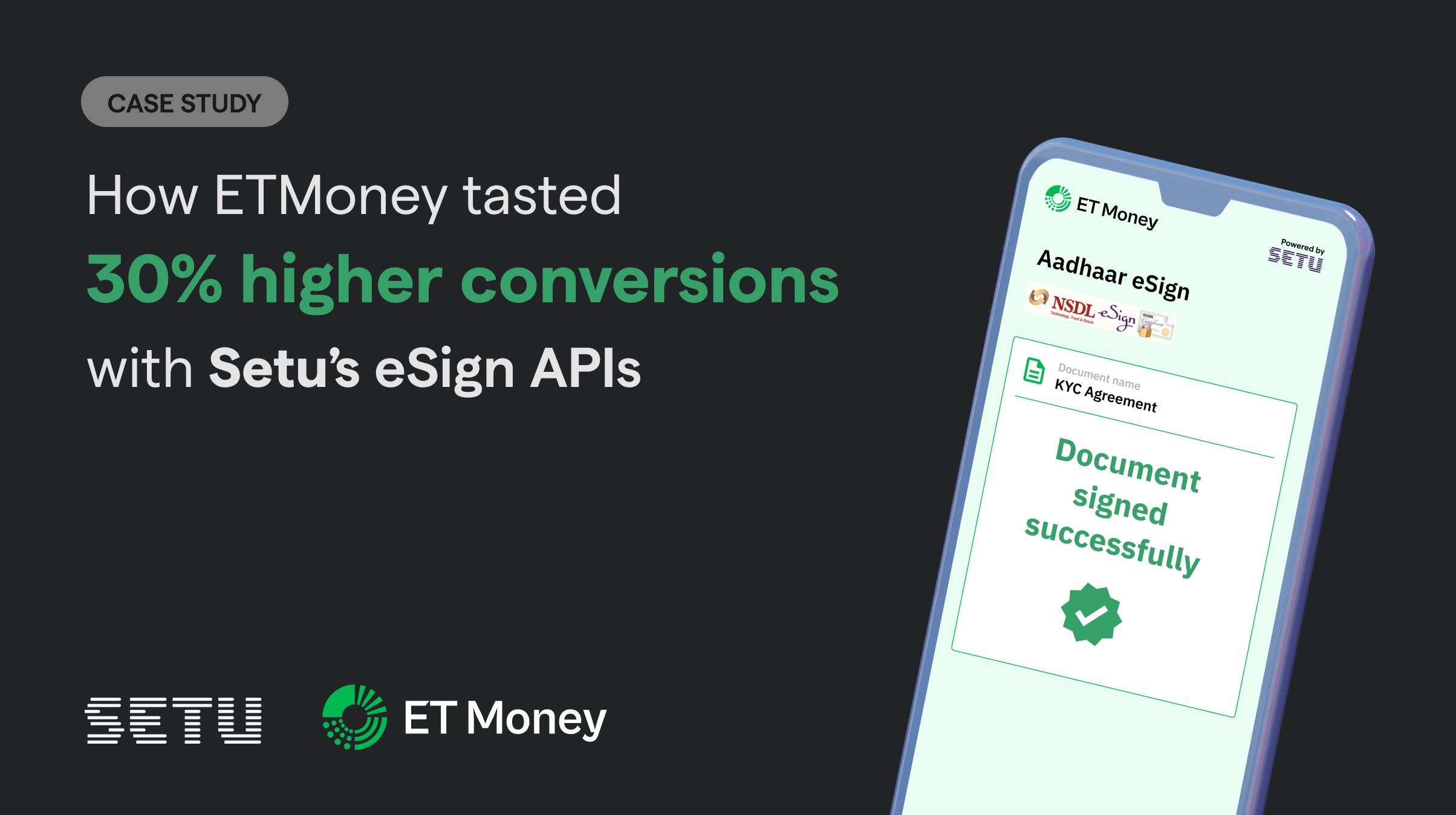 As a next step, the product managers at these companies would want to closely track and observe their user movements to identify drop-offs, optimise for better user experience and of course maintain user retention. A breakdown of any one of these steps, the result —poor conversions. An outcome that all internet platforms dread.
In ETMoney's case, as part of its last step of user-onboarding, the platform had to verify the KYC details of their users stringently, with minimal effort. It is only fair to say that this step is non-negotiable. Without this step, no user would have the ability to get signed up on the platform and make transactions. The flow was such that it would have to push its users to sign on an advisory agreement through an Aadhaar-based e-signature, in order for them to avail any financial services.
For context, Aadhaar e-Sign is a legally compliant mode of electronic signature in India that allows anyone to attest to a document and sign it as long as they have an active mobile number linked to Aadhaar.
But the existing solutions were outdated and inefficient to a large extent. Once the user is redirected to a traditional Aadhaar eSign flow outside of ETmoney, it comes out to be a total black-box. It was a complete browser-to-browser movement and communication. ETMoney's product developers would have zero visibility of the user's movements.
On top of that, the app would effectively lose the nativity element for the user experience inside the app, as the user would now have to move outside of the app and interact with an external website or different user interface (UI) screens. This was supposed to be the final and the most important step of a user signup and onboarding process.
ET Money's bridge with Setu's APIs#
Like many wealth management platforms, ETMoney also suffered a large number of user drop-offs at the final stage of on-boarding. But the rather uncomfortable part of this situation is that the tech teams at the company could not do much about this redundancy since it was outside of their control zone.
After redirection, ETMoney had to make do with an older-looking NSDL eSign screen. This transition would make any user feel like they were now interacting with an alien platform. However, it was supposed to look like the extension of their own native app, which it did not.
Using Setu's Aadhaar eSign APIs, ETMoney designed a native e-Sign screen which would look exactly like an extension of their app's onboarding journey. The team at ETMoney went on to advocate that the APIs were intuitive, prompt and understanding enough whenever they had to make any adjustments to the user experience interface. This resulted in a massive difference in ETMoney's onboarding metrics – the platform had achieved a 30% higher conversion.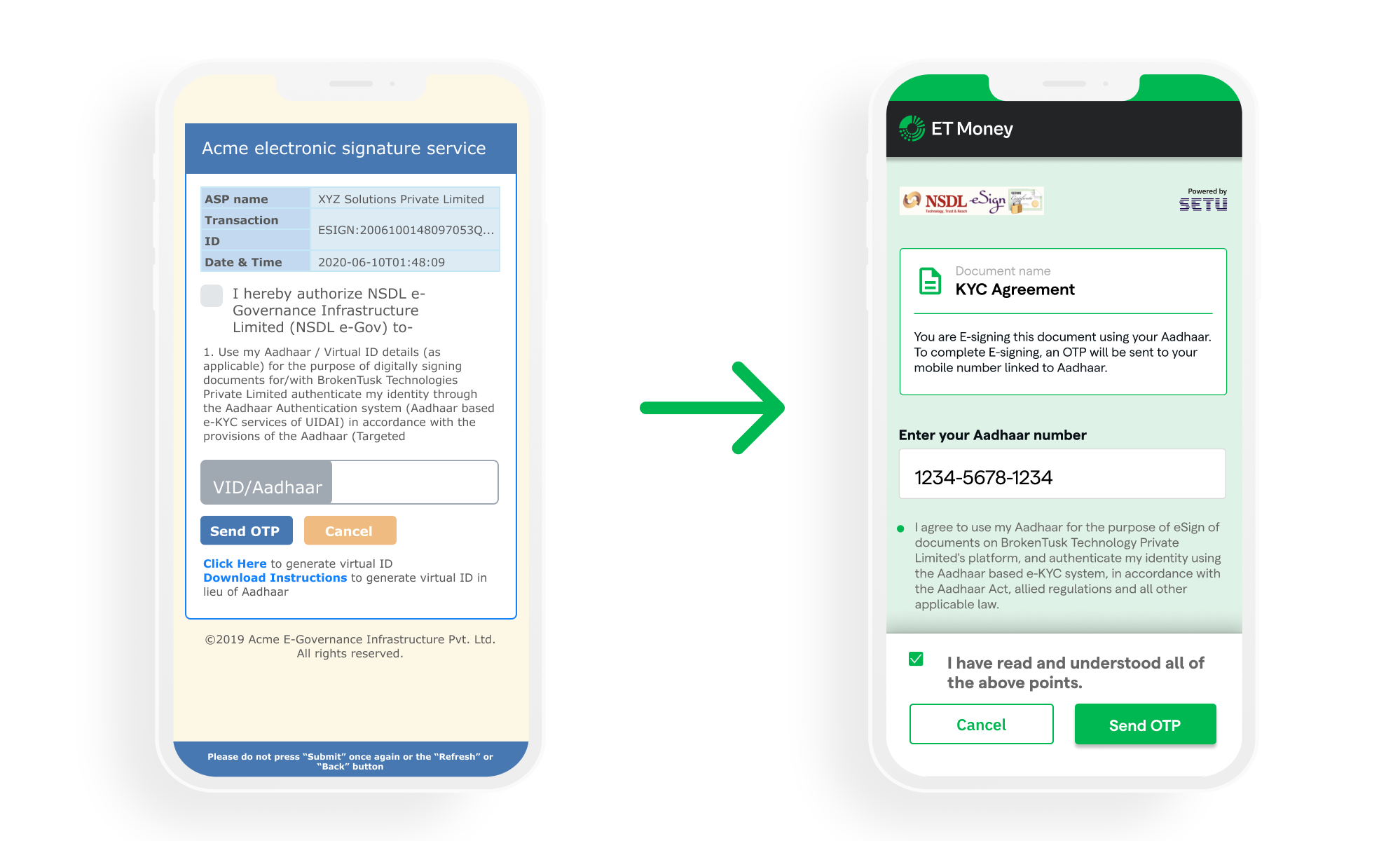 Pukit Benada, Sr Product Manager at ETMoney had to say this,
"Setu is an agile partner with high energy and a strong sense of ownership. Even the UI/UX of their products has been handled in the most customer centric way. Integrating with their eSign APIs was swift and clean— and now we're enjoying 30% higher conversion like never before. Even post integration, the resolutions were quick enough and there was proactive help."
This wasn't possible with any of its earlier API partners. Setu was able to provide some webhooks —a series of events that would enable visibility of user movements to the platform. Using the same, ETmoney's product team was able to analyse the patterns in user behavior while onboarding and take relevant measures accordingly.
If you are a developer or product owner in the onboarding space, feel free to chat with us [here]
---